Jump to section…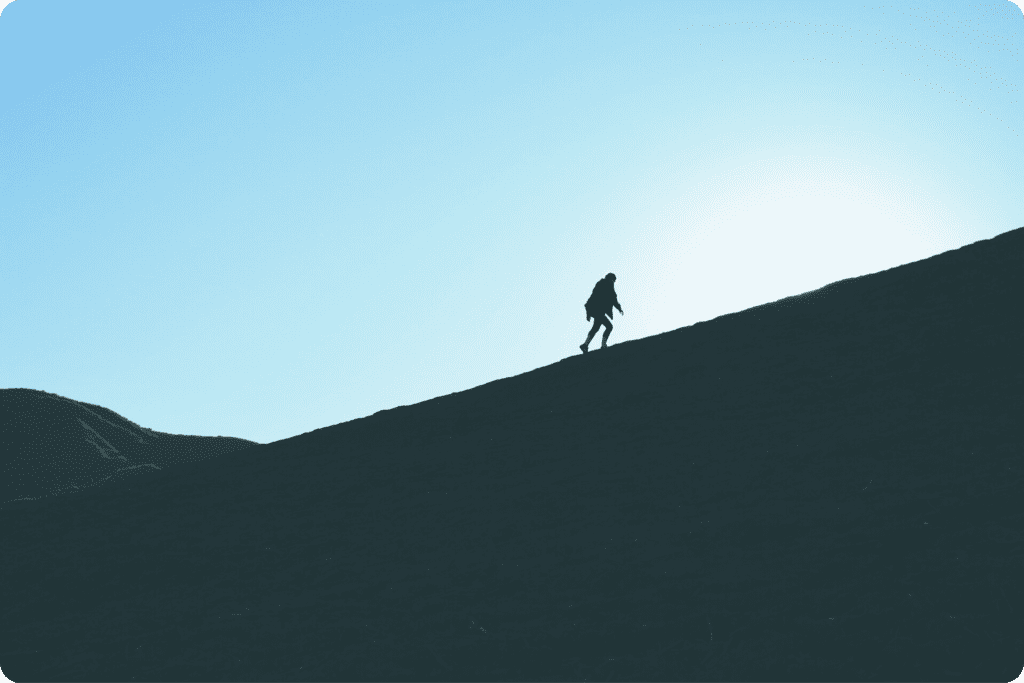 Self-care isn't just about taking a bubble bath or hitting the golf course after a long day. While those might be helpful actions, there's much more to the concept of self-care. Learn how self-care coaching takes traditional "self-care" to the next level, focusing on building sustainable habits that boost your mood, reduce anxiety, and enhance satisfaction in all areas of your life. 
What Is Self-Care Coaching?
Self-care coaching takes a unique approach to personal development through which an individual works with a coach to improve their physical, emotional, and behavioral well-being. The goal of this type of coaching is to help clients understand the importance of taking time for themselves and to develop self-care habits that align with their lifestyles and personal goals. This can include healthy eating, exercise, sleep, stress management, self-love, and other aspects of personal care.
At a)plan, our "whole-person" approach to coaching helps clients develop mindfulness practices, build self-awareness, and establish healthy boundaries that promote overall well-being. Those looking for a self-care life coach can find the support and guidance they need among a)plan's roster of 60+ vetted and trained coaches.
Who Needs Self-Care?
Everyone needs self-care, regardless of age, gender, occupation, or lifestyle. Self-care is an essential part of maintaining good physical, emotional, and mental health. At a)plan, our coaches have helped clients from all walks of life, including:
Busy executives: Executives often work long hours, deal with high stress, and have a lot of responsibilities. By working with a self-care coach, leaders can learn how to improve their focus and productivity and prevent burnout by establishing a sustainable work-life balance.
Working parents: Working parents juggle multiple roles, and it's essential to set healthy boundaries that provide space to rest and recharge. But many parents can't find the time or feel guilty for taking a break. A coach helps these individuals adjust their mindset and introduce self-care in a productive way.
College students: Between academic pressure, social demands, and financial stress, college students can easily fall into a cycle of anxiety and burnout. Fortunately, a regular self-care routine may be beneficial in managing stress and anxiety, improving sleep, and enhancing focus and concentration. A self-care coach provides guidance and accountability to help students excel, not just in academics, but in caring for themselves, too. 
Other examples of individuals who may benefit from self-care include caregivers, entrepreneurs, teachers, artists, healthcare workers, athletes, and anyone who experiences stress or burnout in their daily lives.
What Does a Self-Care Coach Do?
Generally, a self-care life coach:
Helps clients identify areas in their lives where they need to prioritize self-care
Provides support and accountability for clients as they work toward their self-care goals
Helps clients overcome barriers to practicing self-care, such as time constraints or feelings of guilt
Offers guidance on various self-care practices, such as mindfulness, exercise, and nutrition
Encourages clients to focus on their mental health and emotional well-being.
At a)plan, we offer an elevated coaching experience that includes all of the above and the following:
Weekly virtual sessions with your coach
Unlimited chat support with your coach
Weekly exercises, including progress tracking, gratitudes, challenges, and more via our brand new tech platform, a)plan 2.0
Access to a)planAI—a first-of-its-kind AI application in the coaching industry
Access to a)plan resources to further enhance the coaching engagement.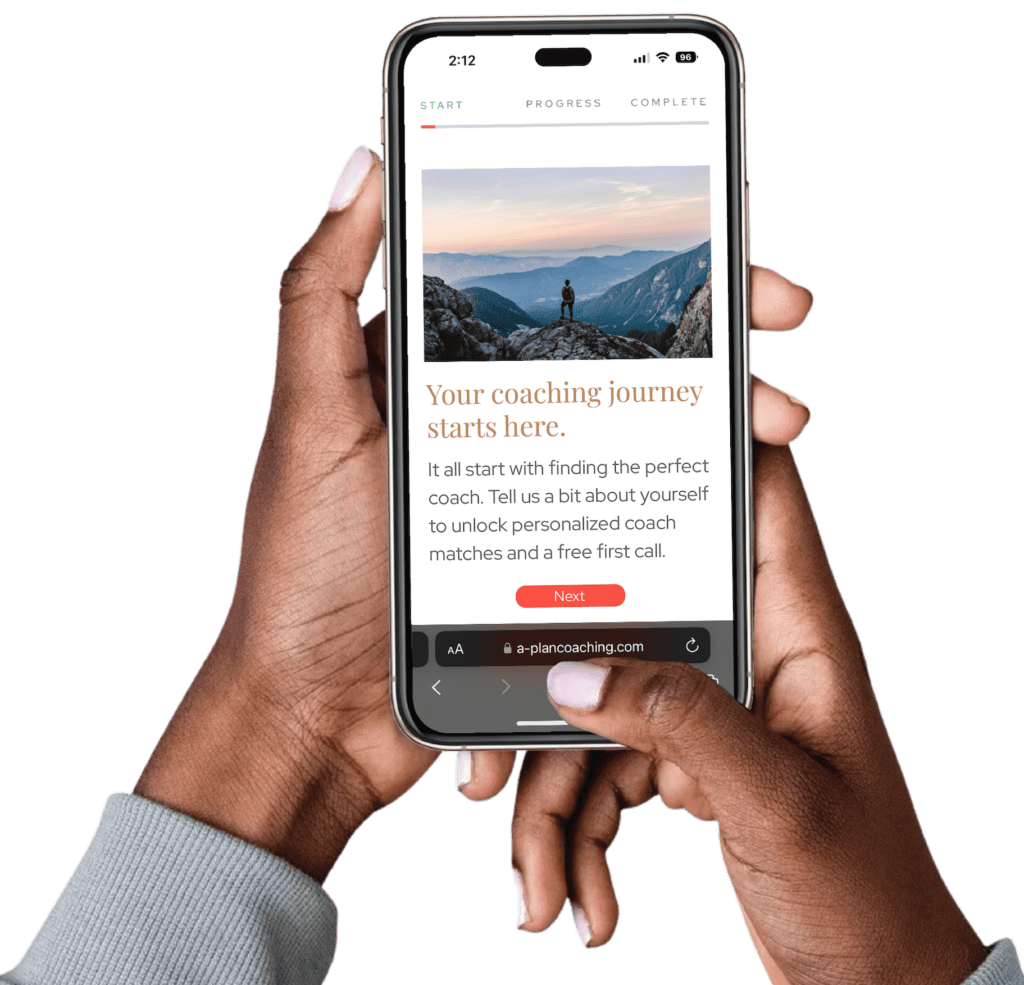 Our free coach-matching tool helps you find the perfect coach in minutes.
7 Benefits of Investing in a Self-Care Coaching Program
Practicing self-care results in improved overall well-being and quality of life. But what does that look like practically? Here are seven benefits that a)plan clients experience after investing in coaching.
1. Reduced Stress, Anxiety, and Burn-out
Self-care coaching helps individuals identify the sources of their stress, develop strategies to manage them effectively, and overcome burnout. By practicing regular self-care techniques, individuals can reduce the impact of these negative emotions on their lives. 
2. Increased Energy, Productivity, and Performance
Working with a coach helps individuals optimize their energy levels, manage their time more effectively, and increase productivity. This leads to better performance at work or school, as well as improved motivation and engagement in daily activities.
3. Better Physical Health
Self-care coaching can help individuals adopt healthier habits, such as regular exercise, balanced nutrition, and adequate sleep. These practices may lead to a stronger immune system, reduced risk of chronic illness, and improved mood.
4. Greater Self-Awareness and Self-Esteem
Many people have goals they want to achieve, but lack the self-esteem and confidence to go after them. Fortunately, working with a coach may help with that. A coach guides clients in recognizing their values and uncovering roadblocks to their goals, developing a greater sense of purpose and determination.
5. Improved Ability to Manage Emotions and Cope with Challenges
Self-care coaching equips individuals with tools and strategies to manage emotions and see challenges as opportunities rather than setbacks. Using methods like emotional regulation and positive self-talk, clients learn how to tune in to their feelings in healthy ways and communicate them effectively.
6. Enhanced Relationships with Others
When individuals practice self-care, they are better equipped to show up as their best selves in their relationships. Coaching may help individuals set healthy boundaries, communicate more effectively, and cultivate deeper connections with others for enhanced relationships.
7. Greater Clarity and Focus on Personal and Professional Goals
It's hard to focus on our goals when we're stressed, exhausted, and overwhelmed. Fortunately, through a coaching program that includes reflection exercises, goal-setting, and action planning, individuals can identify what they really want out of life and take steps toward making it a reality.
Self Care Coaches at a)plan
If you want support and accountability in making positive changes and maintaining healthy habits, starting a coaching program is an excellent first step. At a)plan, we believe self-care is an essential component of accomplishing your goals and experiencing joy and fulfillment in every aspect of your life. It's crucial for achieving long-term health and happiness. We also know self-care is not a one-size-fits-all approach, which is why our coaches work with clients to develop customized plans that fit their unique needs and lifestyles.
Overcoming barriers to self-care and cultivating habits that promote optimal health and wellness may transform your life. Start your self-care journey today by completing our coach-matching survey to receive three recommendations and a free "fit call" with the coach of your choice. There's no better time to prioritize self-care than now!
Interested in self-care coaching?
Take our coach-matching survey to get started.