A Transformational New Approach to Coaching for the Entire Industry
Jump to section…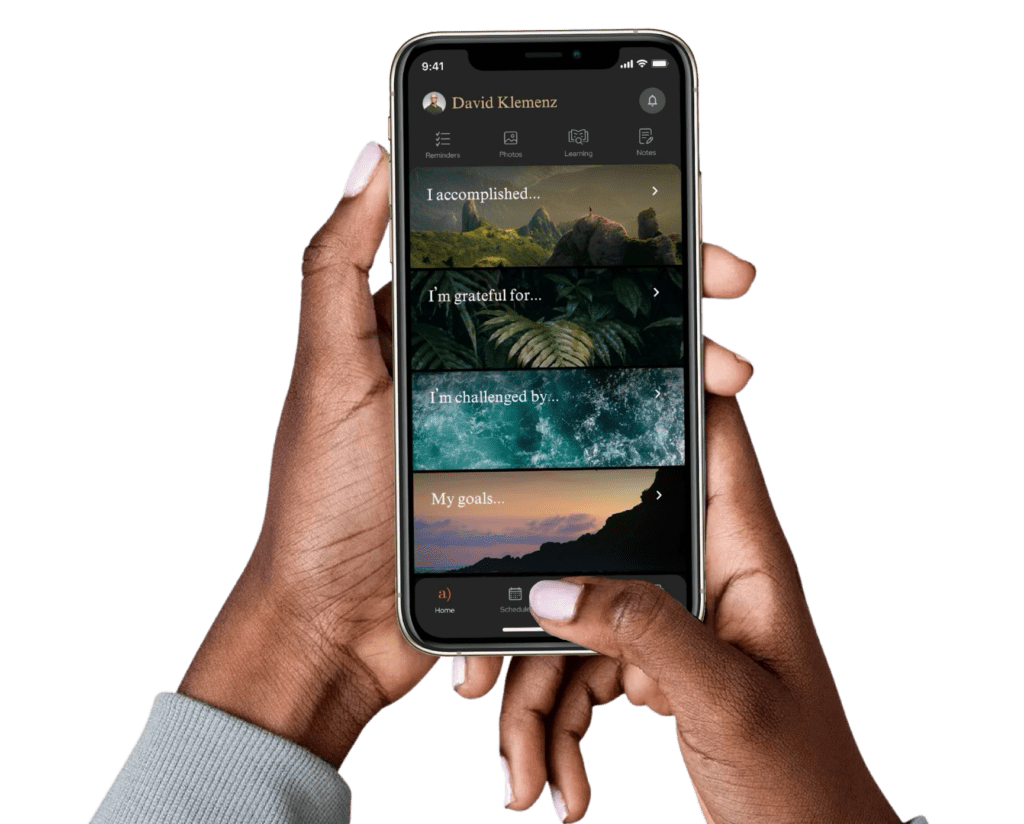 The new a)plan coaching mobile app and desktop experience launched in early 2023, representing an exciting new development for the coaching industry as a whole. Designed through years of coach and client feedback, the app offers the opportunity to experience coaching at its ultimate best.
a)planAI: Your Personalized AI coach
We are proud to announce the integration of our AI coach into our newly launched desktop and mobile platforms, making a)plan the first coaching company to seamlessly blend artificial intelligence with real, live, virtual coaching.
Clients can now benefit from the convenience and accessibility of AI-based support programmed around a)plan's proprietary coaching approach, while still receiving personalized guidance from expert coaches via weekly sessions. Unlike other offerings aiming to leverage AI to simply boost efficiency or to replace human touch, a)planAI builds on a)plan's commitment to provide the best coaching experience on the market, enabled by today's leading-edge advances in technology.
Progress Tracking in Our Coaching App
Our method is largely based on emerging science in neural plasticity and what research tells us about habits, learning, and personal growth.
One key idea is that progress begets progress, and starting with what's working is the best place to start. Most of us could be a lot better at seeing and acknowledging what's working and what we are doing well. Most of us are, by virtue of our biological evolution, biased toward a negativity bias.
To counter this, our coaching app encourages you to track things you are grateful for (from the tiny to the grand) and to track things you are doing well. We also encourage you to track micro-accomplishments because even the smallest wins build momentum toward success. Finally, our coaching app also invites you to document goals, subgoals, challenges, new discoveries, and intentions—all of which help shape the focus for your coaching sessions each week.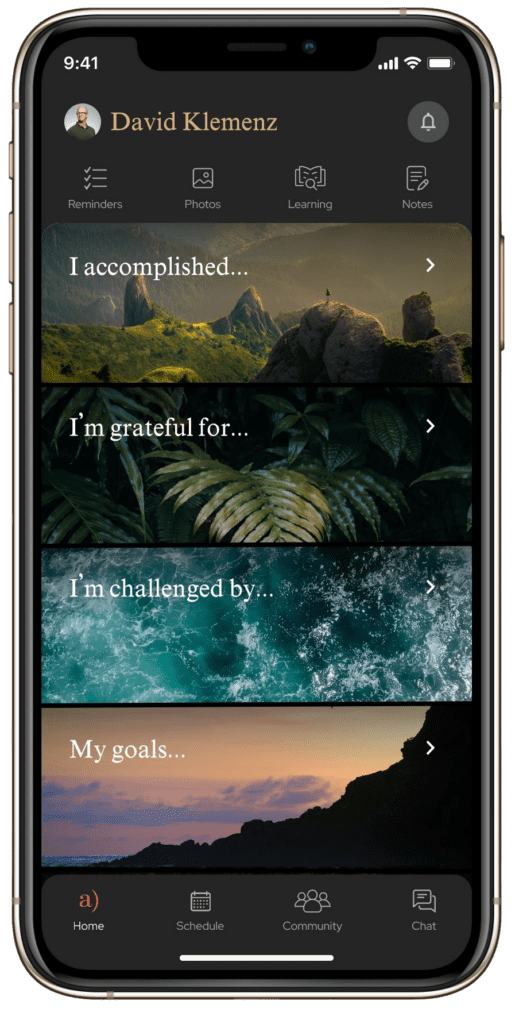 Your Dedicated Space for Goal Tracking
It's been said that "a goal well defined is a goal half achieved." With that in mind, your a)plan journey begins with the question, "What do you really really want?" The ultimate answers to those questions may not come right away, but they will emerge as you drill further down into your desires, vision, and goals.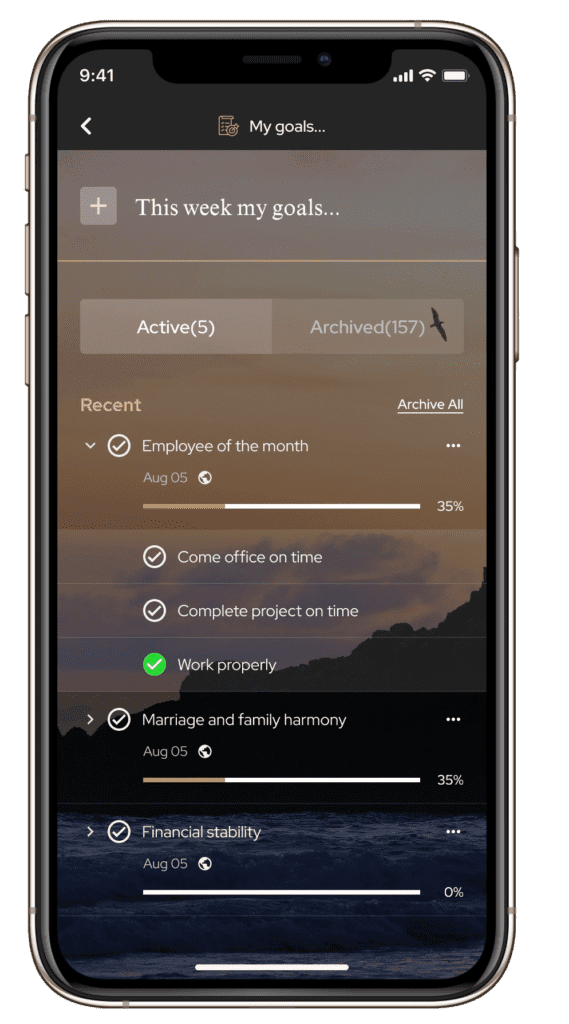 Our clients work with their coaches to develop their goals, then pursue them by creating MAPs, or Multiple Action Plans. The app includes a dedicated space to track your goals and subgoals, with shared visibility for your coach to follow along. Enjoy the help of progress bars and celebratory animations as you pursue, and ultimately achieve, your loftiest coaching goals.
Key Feature: Nudges
Nudges are prompts to engage with some aspect of the coaching app—to consider an idea in the moment, to pause and look around, or to simply answer a question about how you are doing.
Slowly but surely, through app features like nudges, you'll build new habits that give you a foundation for growth and change. As with many of our clients, simply answering the question, "What are three things you can be grateful for today?" literally changed their lives and helped them move from a negative bias to a much healthier one. Less than a minute a day can have an incredibly positive impact.
The Power of Visualization
The new a)plan coaching app and platform feature lots of imagery, and for good reason. A growing body of evidence suggests that expressing ideas in multiple formats—words, images, sounds—helps root them in a deeper, more permanent way in your mind and consciousness.
The imagery in the app also offers a great way for you to contribute and share within the a)plan community. Every day, the landing page of the mobile app features a photo contributed by one of our members. We periodically send out nudges to join in on this community-based feature and encourage our members to participate in this collective gratitude practice.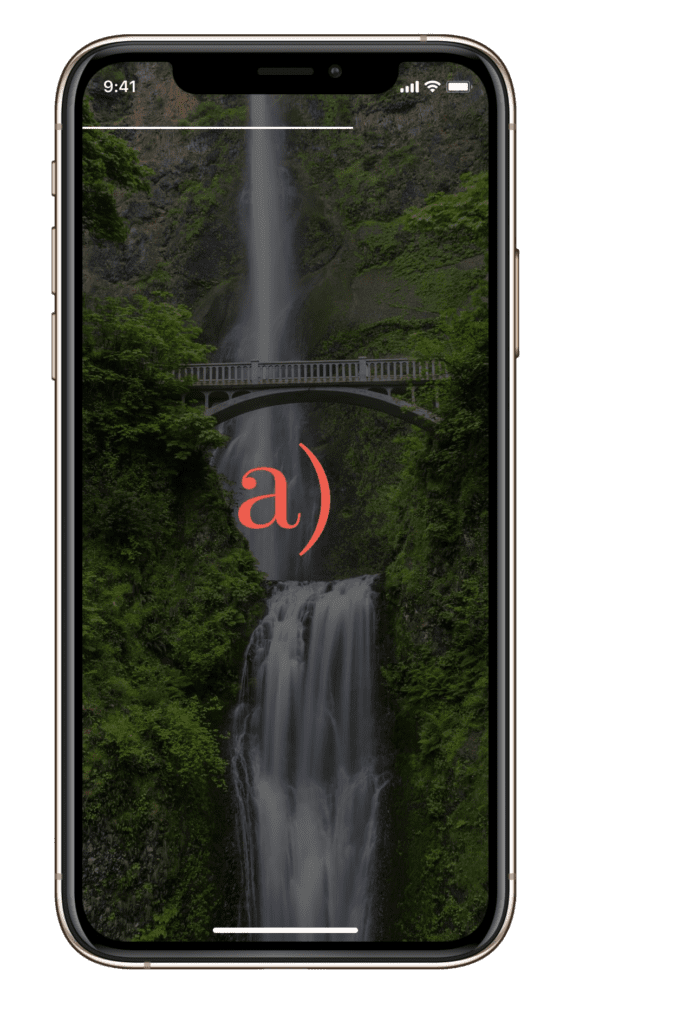 Custom, Curated Content
People learn in lots of different ways. We believe part of the challenge of learning today is the overwhelming volume of content from an ever-growing range of media sources.
For this reason, our app curates and recommends content for you as a key part of your coaching experience. Suggestions of podcasts, books, articles, TED Talks, and content that a)plan has published will be informed by your launch exercises as well as insights from your coach. We encourage you to explore this content and to give feedback to your coach on what resonates most. That will help us refine our suggestions and align our curation process to your specific interests, desires, and needs.
Try Our Coaching App for Yourself
This article features just a portion of the features and benefits of the a)plan coaching app. To try the app out for yourself, feel free to download it from the app store here.
The app is designed to be useful whether or not you're actively working with a coach. However, many of the key features are intended to involve your coach. For the full app experience, get started with an a)plan coach using our free coach-matching survey here. Within minutes, you can receive custom recommendations for coaches fit to your specific needs and preferences.
Interested in working with a coach?
Get started with our coach-matching survey.