Figuring out how to find a life coach can be difficult. It's not just a matter of finding any coach. Rather, it's about finding the perfect coach well-suited to serve your bespoke needs. That's exactly why we created our new coach-matching tool, an automated survey for individuals to easily find their perfect coach.
With this exciting new tool, we've reimagined how to find a life coach fit to your own preferences and needs. And it's quick! Completing it only takes about 10 minutes.
When you take our coach matching survey, you'll receive personalized coach recommendations from our growing roster of 40+ coaches. You'll then have the chance to have a free "fit call" with any of your coach matches. Fit calls last roughly 15 minutes and they allow you to check for compatibility with a coach before getting started.
What Is a Life Coach?
A life coach is someone who helps clients achieve any number of key objectives in life—often related to happiness, fulfillment, career success, relationship building, motivation, and more. It's important to note that a life coach can mean different things to different people. At a)plan, our take on life coaching can best be described as whole-person coaching.
Through a whole-person coaching lens, we understand that humans are complete systems. When something is or isn't working in one area of your life, it impacts your relationships, focus, productivity, happiness, and more. Because of this reality, the most impactful coaching approach is one that considers the whole person. This remains true even when the coaching engagement is centered around one or two core focuses.
Why is this distinction important? If you're figuring out how to find a life coach that works for you, it's important to remember that not all coaching is the same. If whole-person wellness sounds like a practical approach, you're in the right place.
How Does a)plan's Coach Matching Tool Work?
The survey that drives our coach matching tool collects key information that allows us to conduct our match-making magic. You'll be greeted by a fundamental a)plan promise when you begin the survey: We are committed to your success, fulfillment, and well-being.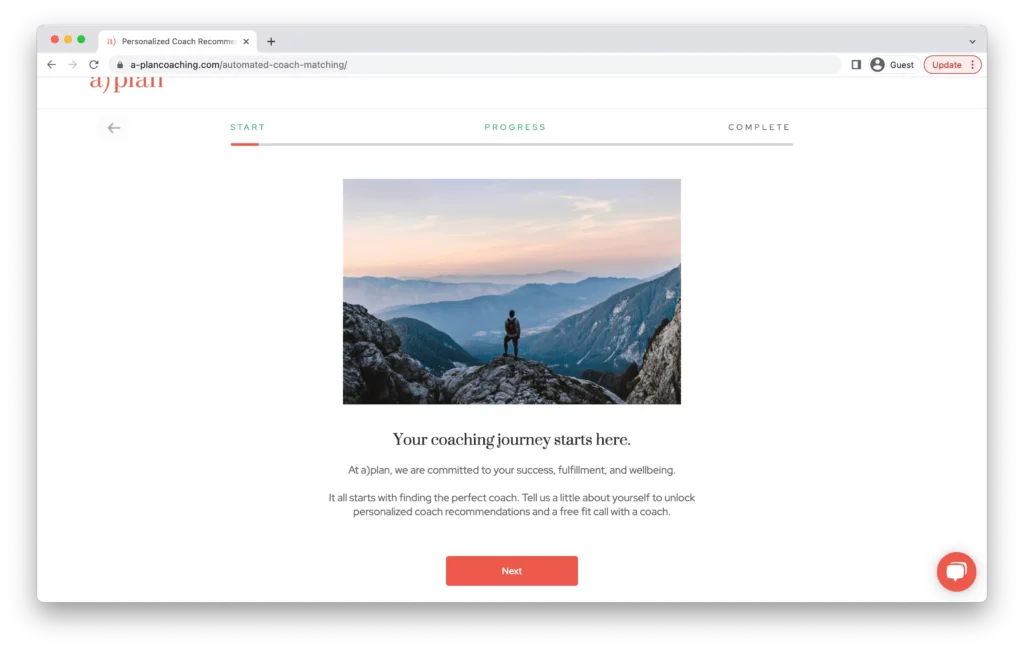 Questions About Your Coaching Goals
This short article doesn't cover every question included in the survey experience, but we'll show you some key steps. The first question revolves around coaching focus: Are you looking to improve your career, personal life, or both? This context allows us to better understand the general motivation that has you wondering how to find a life coach.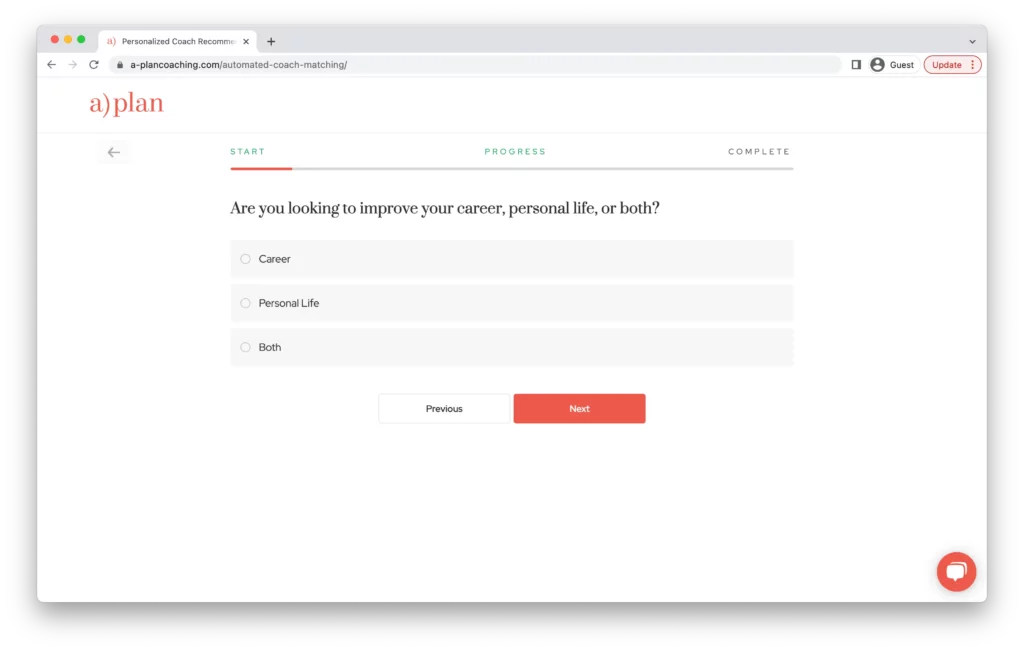 To get more detailed, you'll then be asked to share what brings you to coaching at this moment in your life. You're welcome to share as much or as little as you'd like.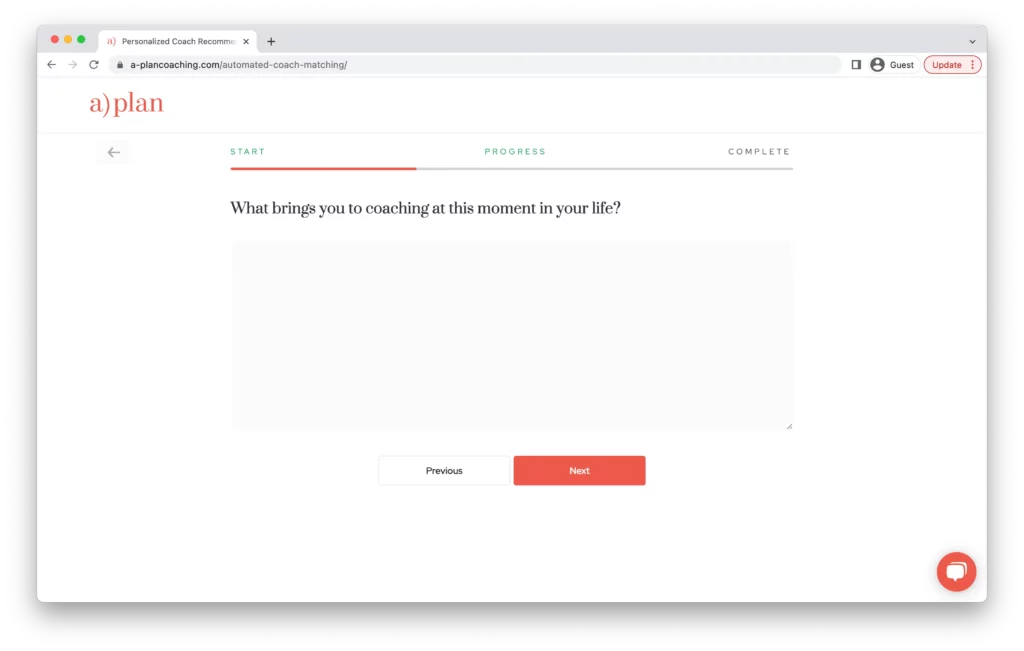 Get in the Coaching Mindset with Gratitudes
We also ask you to name some gratitudes in your life. Gratitude is a foundational concept in our coaching approach. Our coaching app has a dedicated section where users log their gratitudes every week—an exercise that promotes mental well-being and fulfillment.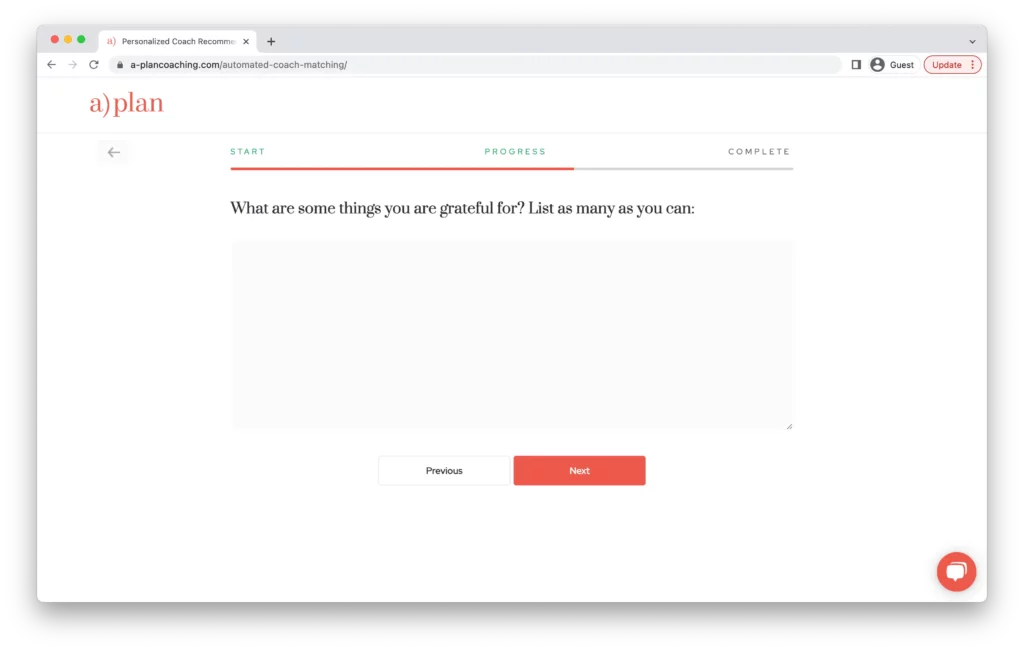 Match-Making Essentials
Because some coaching clients have a preference for their ideal coach's gender, we also factor this information into our match-making process.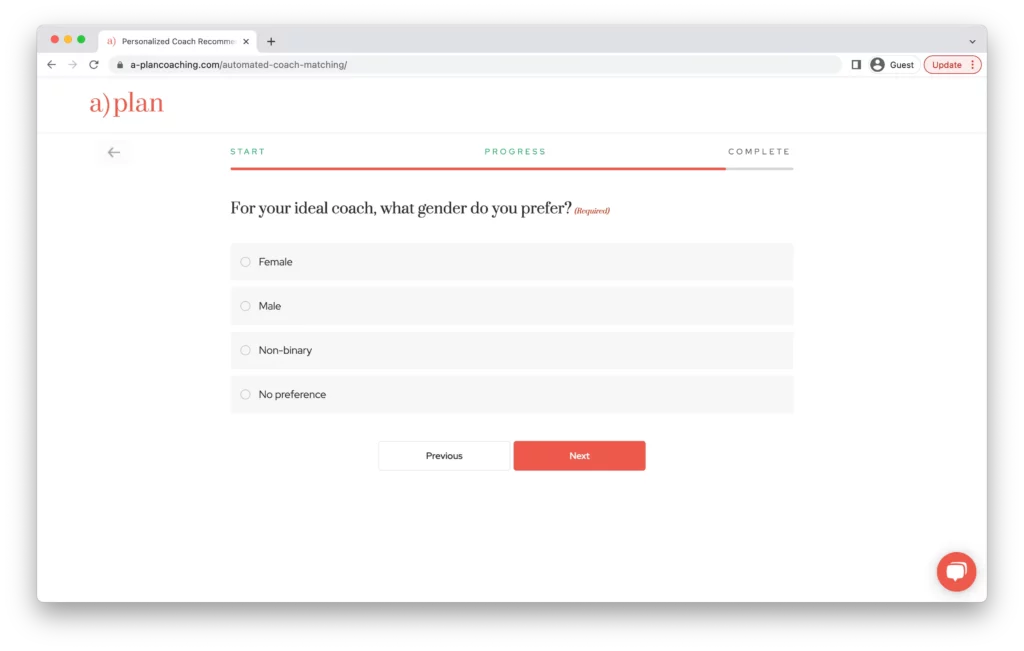 All a)plan coaches are closely-vetted and trained on our proprietary coaching method. Our coaching roster features many generalists, or coaches who excel at serving a wide breadth of clients. With that said, every coach is particularly great in certain areas of focus. In this final slide of our survey, you have the opportunity to select a few key areas of expertise you'd most want in your a)plan coach.
Keep in mind that when fewer areas of expertise are selected, the tool performs most accurately. So if you're coming to coaching with some priority focuses, make sure not to select too many options!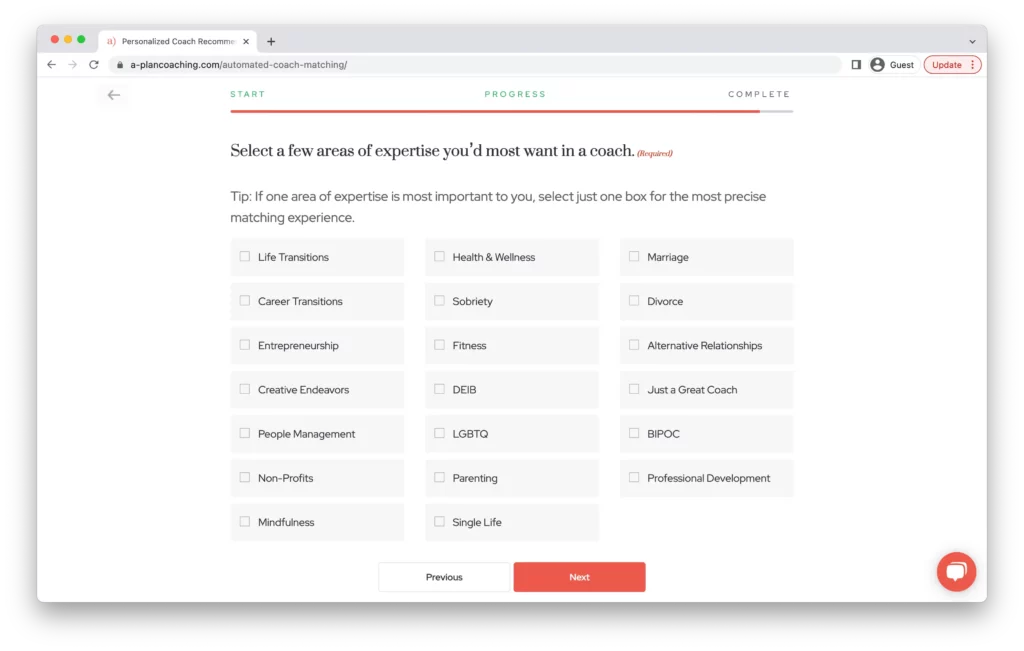 Voila! Coach Recommendations Fit for You
Within a matter of seconds, our match-making magic goes to work and serves up two to three a)plan coaches well-equipped to serve your bespoke needs. You can learn more about each coach by reading their written biographies or by watching their video profiles.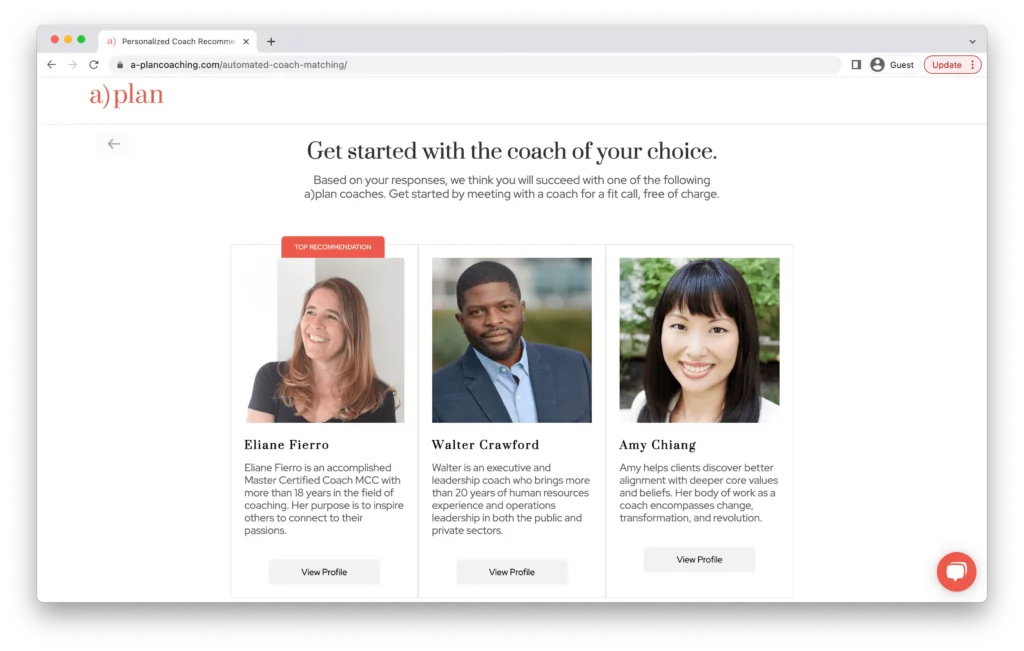 Finally, you'll be prompted to schedule a call with our Coaching Concierge if any of your coach matches look like a great fit. She will walk you through the simple process of meeting with any coach for a 15-minute fit call. Our Coaching Concierge can also answer any of your questions about coaching before moving forward. That includes questions about your matches, our pricing, our approach, or coaching in general.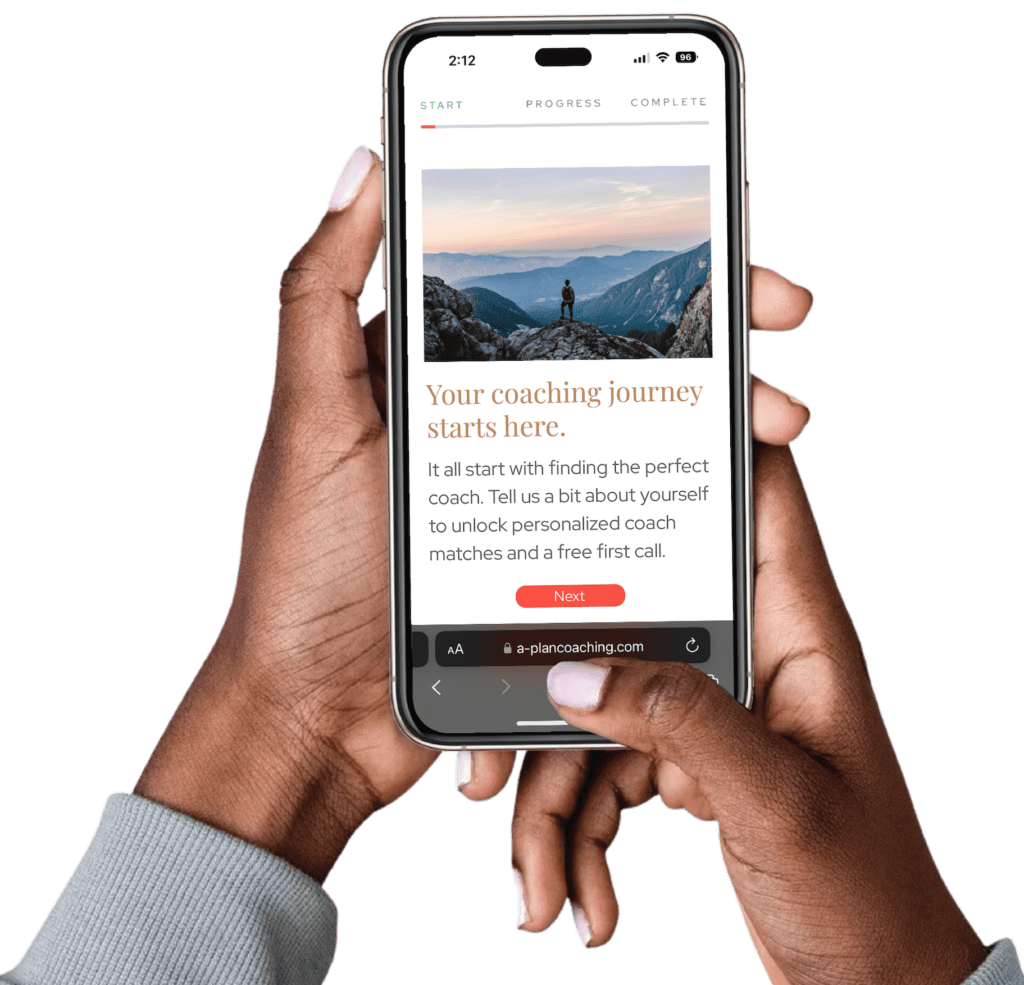 Ready to try our free coach-matching tool? Check it out for yourself here, and find your perfect coach in minutes.