Jump to section…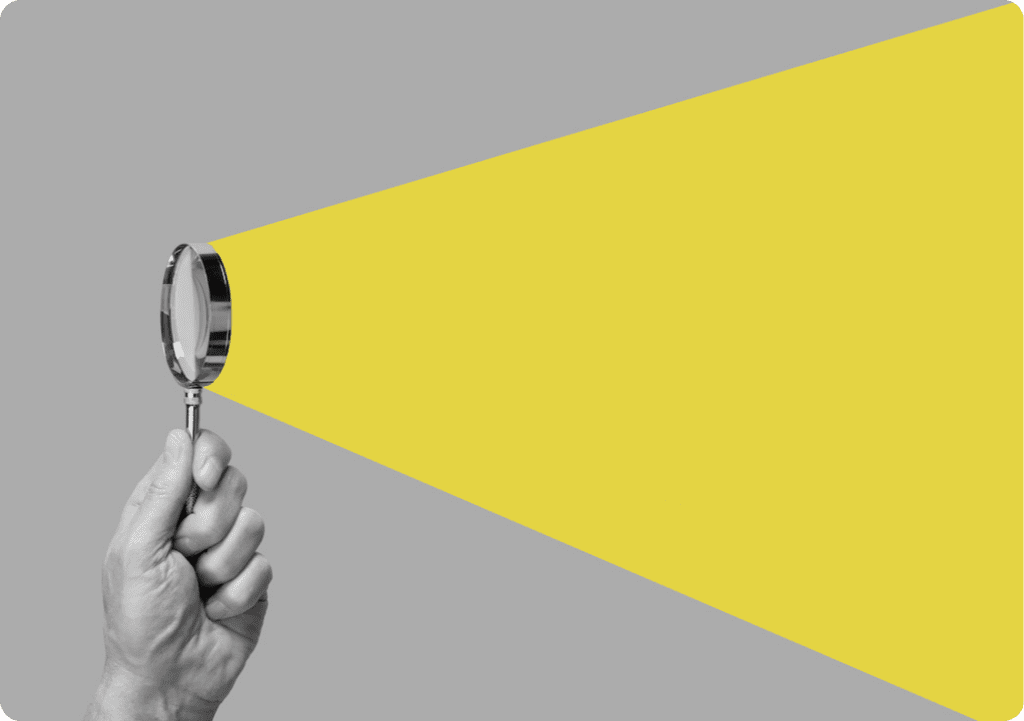 Are you ready to embark on a journey of personal growth and empowerment? Discover how harnessing the power of professional coaching can bring newfound clarity, unearth your hidden strengths, and help you achieve goals you once felt were out of reach.
What Is Professional Coaching?
Professional coaching is a collaborative and transformative process designed to support individuals in achieving their personal and professional goals. It is a dynamic relationship between a trained coach and a client in which the coach facilitates self-discovery, growth, and development.
A professional coach empowers individuals to tap into their full potential by identifying their strengths and values to overcome obstacles and create actionable plans for success. This type of coaching is valuable for individuals seeking to gain clarity on what they really want in life and work, then to take consistent action toward their desired outcomes.
Professional coaching spans various domains, including:
Career advancement
Leadership development
Coaching is a forward-focused, client-centered approach that helps individuals unlock their own insights, make conscious choices, and achieve sustainable and transformative results.
Why the Rise in Popularity of Coaching?
More than ever, people understand that investing in themselves may lead to greater fulfillment and success in all areas of life. Coaching offers a safe and non-judgmental space for individuals to explore their desires and strengths and see the change(s) they desire. Working with a professional coach provides support, accountability, and self-development through a forward-thinking, goal-oriented lens.
This is a key difference between coaching and alternative solutions like therapy or traditional mentorship. For example, therapy isn't sufficiently goal-oriented for many. Furthermore, while coaching focuses on improving the present to impact the future, therapy tends to focus on past struggles and traumas.
Mentorship often results from happenstance relationship building and usually cannot be forced. Plus, it's often unstructured and "catch-as-catch-can." Without a focused plan and the support of a trained professional, results are sporadic at best.
On the other hand, professional coaching offers a structured process to have life and career support in your back pocket at all times. Your coach's only agenda is your success and fulfillment. This value proposition resonates with millions of individuals who value self-improvement, development, career building, and more.
Professional coaching is undergoing a renaissance in that it is becoming much more accessible both in availability and price. What was once a premium resource only to be afforded by CEOs and C-suite executives is now a viable option for individuals, thanks to virtual service providers who have come onto the scene in recent years, like a)plan.
The Role of a Professional Coach
Accountability system. Confidential thought partner. Strategic thinker. Cheerleader. These are some of the many roles a professional coach plays in the lives of their clients. Coaches assist clients in setting clear and meaningful goals and breaking them down into actionable, achievable steps. They provide constructive feedback, offer alternative perspectives, and challenge limiting beliefs to expand the client's thinking. Overall, the role of a professional coach is to facilitate growth, empowering clients to take ownership of their actions and inspire transformative change.
A great professional coach sticks to tried and true methods, strategies, and approaches; however, they can create a bespoke experience for each client based on unique needs. This is how we operate at a)plan. We have 60+ highly diverse coaches who all bring their own flair but operate using the same methodologies, technology stack, coaching ideas, and approaches.
When you match with an a)plan coach, they are there to serve you and only you, which is a liberating experience. How many relationships in your life are unconditionally about you and what you need to succeed in life or work? It's an extremely rare thing when you think about it, but it's available through professional coaching.
Benefits of Professional Coaching
The outcomes clients experience from this type of engagement illuminate the benefits of professional coaching—with one of the primary benefits being increased self-awareness and mindfulness. By reflecting on their values, strengths, and areas of improvement, individuals gain a heightened sense of self-awareness that leads to more informed decision-making, improved self-confidence, and a clearer sense of purpose.
From this foundation, clients learn how to take consistent action toward their goals, resulting in tangible progress and success in multiple areas. While specific outcomes depend on what each client aims to achieve, the overarching result is a greater sense of fulfillment in all areas of life as individuals learn to better manage challenges and prioritize their well-being.
a)plan's Proprietary Approach to Coaching
Professional coaching is a)plan's bread and butter. We've created our proprietary coaching methodology based on fundamental principles that, when followed, ensure sustainable change.
With more than four decades of insights and research from coaching industry pioneers, we've developed a philosophy that works—and have the success stories from hundreds of clients to prove it. Our secret?
We start with what's working and celebrate wins.
We encourage clients to identify what they really want in life, even if it feels outlandish or impossible to obtain.
We create MAPs (multiple action plans) to collaborate with clients on the many ways to achieve desired outcomes. This process entails setting and pursuing lofty goals that can be broken into smaller, more digestible steps forward.
We focus on habit change, habit creation, resisting negativity bias, and small steps toward significant progress.
We leverage technology to extend the coaching experience with our web-based dashboard, coaching app, and the latest AI features within our tech. These tools give clients the fullest coaching experience on the market and greater access to their coaches.
We don't tell clients what to do; however, we collaborate closely with them to help them experience key breakthroughs that lead to personal transformation in as little as six months.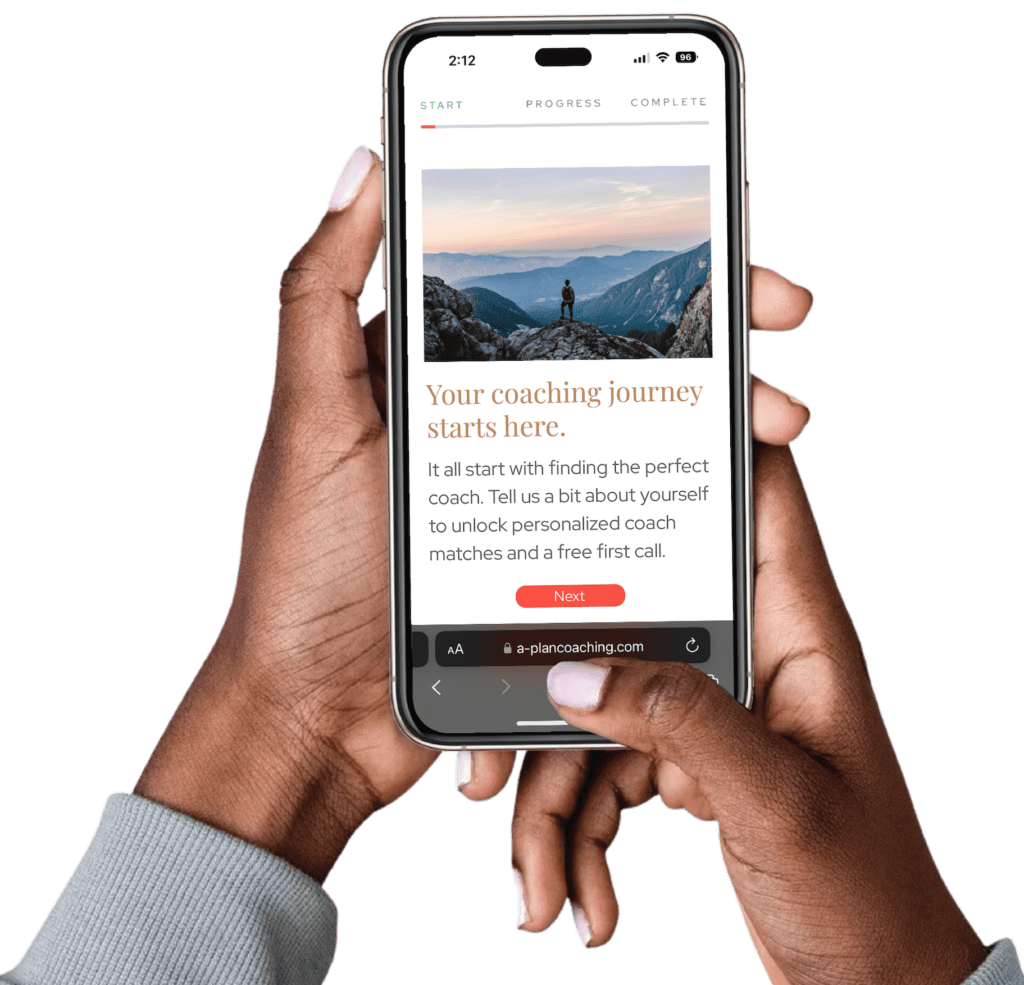 Our free coach-matching tool helps you find the perfect professional coach in minutes.
How to Get a Professional Coach
When it comes to hiring a professional coach, we see two key ways in which people may access this resource: hiring a coach directly as an individual or enjoying it as a benefit provided by your employer. At a)plan, we serve both audiences.
Professional Coaching for Individuals
Anyone can hire a professional coach. The key is finding the perfect fit for your needs. At a)plan, we developed our program to make coaching within everyone's reach. We serve a quickly growing client base who hire us directly out of their own pockets. In our efforts to democratize this game-changing resource, we keep our coaching pricing accessible to all audiences.
To match you with the right coach, try our coach-matching survey which helps us learn who you are and what you hope to achieve from coaching. Upon completing the survey, you'll receive three individualized coach recommendations from our roster of 60+ coaches. From there, you can schedule a free compatibility call with the coach of your choice to decide if you want to work with that person on a weekly basis.
Professional Coaching for Organizations
Just as commonly, organizations hire a coaching provider to offer coaching to their employees, managers, executives, or all of the above. Organizational engagements can take many forms—from one-on-one coaching to team coaching to more extensive training or a combination of any of these.
A key difference between professional coaching for organizations versus individuals is that organizations often provide some direction to the coaching. This means employees will work with their coaches on a mix of personal goals (related or unrelated to work) and predetermined focus areas suggested by the organization.
At a)plan, we've brought coaching to hundreds of organizations. Some of the most common themes delivered through these programs include:
Diversity, equity, and inclusion
Decision-making and role clarity
Executive presence
Delegation
Culture transformation
To learn more about our work with organizations, feel free to drop us a note here and our team will be happy to chat.
The Future of Professional Coaching
This is an exciting time to be involved in professional coaching. This practice is still in its early stages, which means there is vast opportunity for further growth in the industry. If you look at a brief history comparing the coaching industry to the therapy industry, it's clear that there's a lot of exciting development ahead.
With innovative new technology like AI, expect to see more products, offerings, and services aimed at supporting coaching clients to be the best versions of themselves. That's saying a lot, considering today's offerings already have the potential to change lives and catalyze personal transformation.
If you're thinking about professional coaching for yourself or members of your organization, there's never been a better time to jump in and see what it's all about. And you can start today with a)plan.
For individuals wanting to work with a professional coach, we encourage you to complete our coach-matching survey. Or, if you're interested in establishing a professional coaching program at your organization, please complete this form. We are eager to learn more about to whom you'd like to provide coaching (whether employees and/or executive leaders) and what goals you have for your organization.