Jump to section…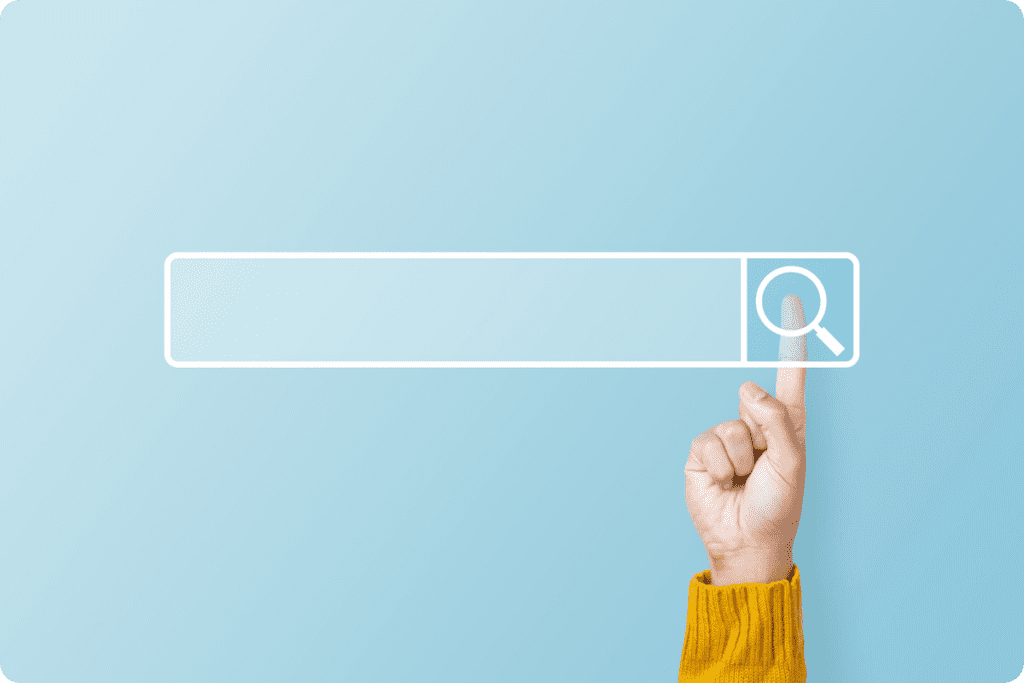 Have you ever wanted to accomplish a goal in your life or career, but felt like something was blocking you? We all have our reasons when progress stalls, such as doubts, fear, circumstances, or timing. But you don't have to let those reasons stymie you. Just ask the growing number of individuals who have turned to breakthrough coaching in recent years.
What Is a Breakthrough Coach?
A breakthrough coach focuses on helping individuals pursue and achieve personal breakthroughs or transformations. These transformations typically relate to one's life, career, relationships, habits, goals, and more—and they can relate to topics big and small.
To fully understand this definition, it's helpful to first understand: What exactly is a breakthrough? At a)plan coaching, breakthroughs are closely tied to goals. A major part of the coaching experience relies on setting coaching goals, then doing the work to hit those goals. That experience of hitting a meaningful goal often creates a distinct shift or improvement in one's life that can be described as a "breakthrough" moment.
Anyone can pursue their own breakthrough moments working with a coach. At a)plan, breakthrough coaching can be used in tandem with whole-person coaching, which describes our holistic approach. We work closely with clients to help them identify the various pockets of their lives in need of some care and attention, and, in time, we help unlock breakthroughs related to those areas.
What Types of Breakthroughs Does a Coach Help Create?
Breakthrough coaching is entirely what you make it. In finding the perfect coach or coaching company, it's critical to choose one able to customize the experience to fit your own bespoke needs. Pulling from our deep experience at a)plan, here are a few of the most common goal-setting areas that drive meaningful breakthroughs:
1. Career Breakthroughs
Whether you're considering asking for a big promotion or shifting your career path toward something you truly love, a coach can help guide you to take the right steps toward your goals.
2. Lifestyle Breakthroughs
Lifestyle goals typically relate to your personal well-being, both mentally and physically. Breakthroughs in this area pertain to things like fitness, nutrition, and habit change—or they relate to ad hoc life moments, like moving to a new location or planning a big vacation. A breakthrough coach helps you shape your lifestyle as you desire, holding you accountable to your goals along the way.
3. Relationship Breakthroughs
Relationships are crucial to our personal and professional lives. A great coach understands the importance of communication, intentions, actions, and more. As a result, coaching clients learn tools to better manage familial relationships, start new friendships, and gain confidence to pursue their ideal social lives or romantic partners.
What Does a Breakthrough Coach Do?
We've established the importance of goal setting and planning as part of the breakthrough coaching experience. But what does a coaching engagement actually look like?
We can only speak to what you'll get with a)plan coaching: a bespoke, high-touch experience highlighted by weekly coaching and unlimited access to your coach. Clients at a)plan enjoy the following approaches and benefits:
We build on what's working: A great coaching experience plays to your strengths, which is why our coaches are trained to help you identify and leverage them.
We dig deep to identify what you really want: What do you really want? We believe this is a fundamental question that far too few people ask themselves.
Weekly sessions and unlimited texting: Clients and coaches meet virtually every week. Between sessions, clients may contact their coaches as often as needed through our coaching app.
Tactical and strategic work toward breakthroughs: From launch exercises to a focus on habit change, coaching isn't just a place to talk about the big picture. We put pen to paper to document and track progress toward goals.
Dedicated thought and accountability partnership: A coach's only agenda is your success and fulfillment. They help you think through life's toughest challenges and hold you accountable for achieving the breakthroughs you've set out to create.
Remember that the actual work involved in any coaching engagement entirely depends on the individual being coached. The work is informed by the goals or breakthroughs the client seeks to achieve. Ask yourself: How would you want to spend time with a coach, considering your own life or career goals? Even if it's unclear, a coach helps you figure it out.
Breakthrough Coaching at a)plan coaching
At a)plan, because our coaches are generalists in nature, we're proud to have an extremely high success rate matching coaches to clients, then serving them effectively.
Our diverse roster of nearly 60 coaches are trained to see the brilliance in our clients. We boast some of the most seasoned coaches in the industry, all of whom understand what it means to lead their clients to life-changing transformations. When it comes to breakthroughs, we're talking about the core of why a)plan exists: to democratize a resource (coaching) that can fundamentally change lives.
Match with the Perfect Breakthrough Coach for You
A future breakthrough starts with finding the perfect coach. That's exactly why a)plan created a free coach matching tool to help you find the perfect coach. In about 10 minutes, you can receive three coach recommendations based on your preferences provided through our simple survey.
Then, if a coach looks like a great match, you can meet them over a free "fit call" to determine if you'd like to move forward. We're proud to share that this coach-matching tool has helped dozens of new coaching clients get started with the right coach. Finding a breakthrough coach has never been easier—give it a try!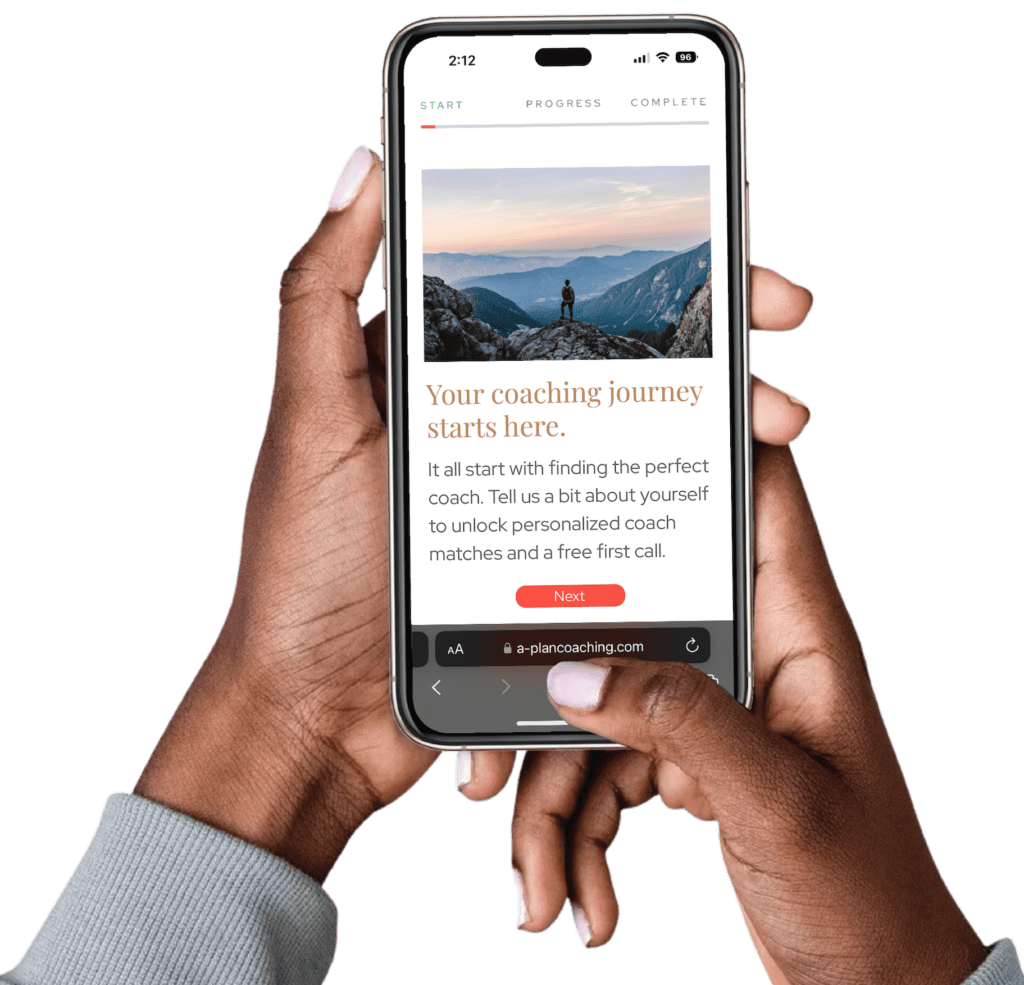 Our coach-matching tool helps you find the perfect coach in minutes. Find a breakthrough coach today.