Are you wrestling with how to find your purpose in life? Learn why life purpose coaching is the best next step in your self-discovery journey. 
What Is a Life Purpose Coach?
Life purpose coaching is a type of coaching designed to help an individual uncover their purpose and establish a life path that aligns with their dreams, goals, and desires. A life purpose coach uses introspective exercises, guided visualizations, and strategic goal-setting strategies to empower clients to make impactful changes. This process leads clients toward a life that is not only successful by their own standards, but also deeply satisfying, more fulfilling, and aligned with their core selves.
For some quick examples, a life purpose coach might:
Assist a corporate executive who feels unfulfilled in their current role, guiding them towards a career that combines their love for nature and leadership skills, such as becoming an environmental non-profit director.
Work with a recent college graduate who is uncertain about their future, helping them uncover a passion for social justice and channeling that into a fulfilling career in law or activism.
Coach a retiree who is seeking a new purpose, leading them to use their lifelong baking skills to start a local bakery, bringing joy to the community. 
Sometimes, the path to your true purpose seems clouded by doubts, fears, and societal expectations, making it challenging to discern your genuine passions and goals. However, by engaging with a professional life purpose coach, you can delve beneath the surface, uncover your authentic self, and break free from negative thought patterns holding you back.
How to Find Your Purpose: A Coach's Perspective
At a)plan, our coaches are trained in our proprietary coaching methods and philosophies. When it comes to how to find your purpose, we believe in the power of deep reflection, consistent intention-setting, and getting in tune with what feels good in life. Then it's a matter of setting goals and charting paths to achieve them. This process typically takes months. Much like a gym membership, results and progress take time. If finding your purpose were easy and happened overnight, everyone would do it.
We rally around the fundamental question—"What do you really want?"—as a starting point in our engagements. It may sound like a simple question, but it may be a liberating experience to think this through on deeper levels. For many a)plan clients, getting serious about what they really want—and trusting they can have it—is the beginning of their purpose discovery journey.
Questions to Ask Yourself to Find Your Purpose
What do I really want?

This question helps you identify your deepest desires and aspirations, allowing you to create a life that aligns with your authentic self. Don't hold back—dream big!

Am I living in alignment with my deepest values?

By asking this, you can assess whether your current lifestyle and decisions reflect what you truly value, which is essential for finding fulfillment. Be honest with yourself!

What gives me the most joy, energy, and excitement in life?

This question can reveal your passions and interests, often providing clues to your purpose and the path that will bring you the most satisfaction. Don't consider what you think should bring you joy, but what actually does.

Where do I most feel I'm in my "zone of genius?"

Asking this allows you to pinpoint where your unique skills and talents lie, helping you to leverage them in a way that brings purpose and joy to your life. When do you feel like your best self?

What have people always told me I excel at?

This question can help you recognize strengths you may have overlooked, providing valuable insight into potential paths toward your life purpose. Don't be modest here—rather, get proud and confident of your talents.
While these questions alone won't reveal something as deep and layered as your life purpose, they can calibrate your mind to think about who you are at your core. That's often the start of a successful purpose discovery journey.
5 Things to Expect from Life Purpose Coaching
When it comes to how to find your purpose, it's essential to be patient and realize the journey isn't always simple, but it should be fulfilling. With that in mind, here's what you can expect when you engage in life purpose coaching.
1. It takes time.
Coaching is best as an ongoing supplement to life. For most people, purpose doesn't magically appear after working with a coach for a few months. It takes time, and you should be comfortable with the idea that this is a marathon, not a sprint.
2. Your coach is only there for you.
Your coach's only agenda is to support you on this journey. That means to listen, empower you, ask questions, give you space to dream, and be your thought partner as you find what matters most to you.
3. It's not always summed up neatly in a few words.
It's natural to wish that your purpose could be simply expressed in a short phrase—a stake you can plant in the ground then be happy. But often, it's much more complicated. Accepting this reality is key to discovering how to find your purpose.
4. The journey is just as important as the destination.
Coaching is great for people who want to discover how to enjoy the journey. If you're searching for purpose, you might as well enjoy the search, right? These are deep, reflective, and often complicated self-discovery journeys. To only ever care about the destination could mean living an unfulfilled life until you get there. Coaching helps avoid that.
5. Celebrate incrementality.
Searching for purpose doesn't need to require some moment of epiphany. The fact that you are self-aware and reflective enough to be on this journey should be celebrated. Fulfillment comes in little moments and builds on itself in small steps. That incremental progress is part of finding your purpose. New hints or clues emerge and shed light on what you should or shouldn't be doing. Those moments are worthy of celebration.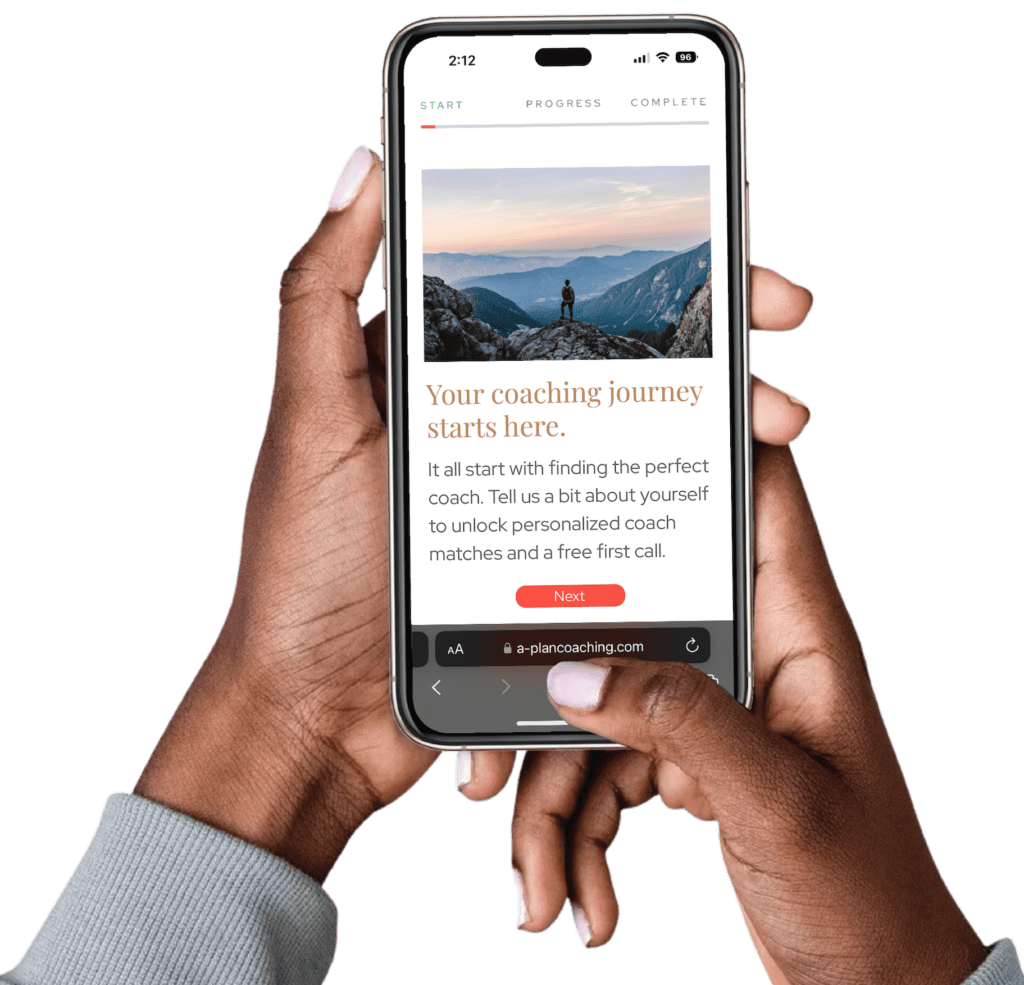 Our free coach-matching tool helps you find expert life purpose coaches in minutes.
Find Your Coach, Find Your Purpose
Because it's a journey without a set timeline, your life purpose coach must be someone you enjoy talking to—someone you respect and can trust as a thought partner. The value compounds on itself the longer you work with a coach. As they get to know you better and better, they become better able to help you understand deep concepts like your life purpose. That's all to say that finding a great coach is one of the best things you can do on your path to finding your life's purpose.
Custom-Matching with an a)plan Coach
At a)plan, we know discovering your purpose isn't always easy. But finding a life purpose coach to help you should be! That's where our coach matching survey comes in.
With more than 60 vetted, trained, and passionate coaches readily available, you have many options. To make finding the right coach easier, complete our short questionnaire to narrow your choices down to three coaches picked just for you, based on your responses. From there, you'll have the opportunity to schedule a free fit call with the coach of your choice and launch your journey of purpose discovery! 
Interested in life purpose coaching?
Take our coach-matching survey to get started.