Jump to section…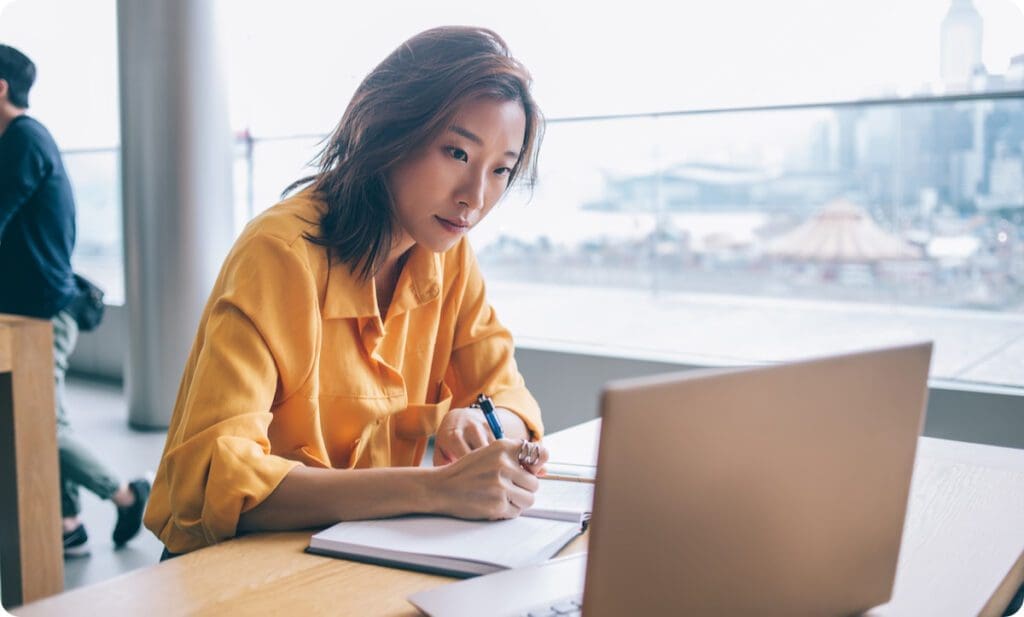 Do you have career aspirations or personal goals you want to achieve, but feel like something is holding you back? It may be your mindset. Our thoughts hold significant power over what we experience. If you feel discouraged or uncertain about how to create the life you want, a mindset coach might be what you need to help unpack the beliefs and thought patterns getting in your way.
What Is a Mindset Coach?
A mindset coach helps clients discover, practice, and master new ways to be more intentional in shaping their mindset and focus. In mindset coaching, clients take stock of their beliefs, behaviors, and thought patterns to identify what is helping and what is hurting.
From there, a mindset coach supports the client in mapping out strategic ways to change or adopt new thoughts and beliefs to promote a healthier and more productive outlook on life. This work typically involves reflection, habit change, behavioral intentionality, and accountability—areas in which the coach is trained and qualified to help.
At a)plan, mindset coaching represents a key pillar of our whole-person coaching approach. Our proprietary approach has helped hundreds of clients unlock their full potential by improving their outlook, attitude, and confidence.
The Need for Mindset Coaching Today
The need for mindset coaching arises from the realities of the world we live in today. The internet, the news, and society at large predispose our mindsets to negative thinking about ourselves, others, and the world around us. What we read online and see on social media subconsciously conditions our mindsets to "compare and despair." We benchmark ourselves against others and find all the ways we fall short. We ingest depressing realities about our local or world news and feel powerless.
When our default is negative, we operate from a place of pessimism, skepticism, deficiency, and defeat. Our metaphorical "cup" stays empty. We don't have what we need to perform well at work or show up presently and mindfully with family and friends. As a result, we feel like we are running on fumes.
While we can't change what is happening around us, we can set our intentions and practice strategies to break these patterns of negative thinking. Coaching can help create mental breakthroughs that positively impact every area of our lives.
The Life-Changing Power of a Mindset Coach
Anyone in a successful position will vouch for the power of having the right attitude. This is because what we focus on, we attract. When we focus on positive things, we experience more positive outcomes.
Just ask Gabriele Oettingen, a professor of psychology at New York University, who reminds us that mindset is a predictor of success. According to this CNBC article, she says, "Optimistic people are more likely to invest, act, and put effort into achieving whatever it is that they want to get done."
So, how do you change your attitude when you feel steamrolled by all that life throws your way? A coach gives you hands-on strategies to raise the bar for your baseline mindset. They help you become more mindful of your subconscious thoughts. They also hold you accountable as you develop and stick to a self-improvement plan. Doing this work gives you a significant leg up on the majority of the population.
What Does a Mindset Coach Do?
More than merely a cheerleader, a coach helps you gain insight into the potential implications of your thoughts and behaviors and replace them with positive beliefs. This experience creates new possibilities for creativity, problem-solving, and success.
On a more tactical level, what does it look like to work with a mindset coach? At a)plan coaching, we work with clients in a consistent way using our proprietary approach. Some highlights of that approach include:
Completing our launch exercises that encourage the client to get in the "coaching mindset" and think deeply about where they are now versus where they want to be
Using the a)plan coaching app, where clients can set intentions and goals, track progress, and communicate with their coaches
Attending virtual one-to-one weekly sessions with coaches via the a)plan app to set goals, create action plans, and review progress on a consistent basis
Identifying roadblocks or challenges that might be impacting mindset and creating strategies to address and adjust them
Adopting new practices, strategies, breathwork, etc., depending on the client's specific needs or desires
Mindset coaching provides clients with the tools necessary to make lasting and meaningful changes. With a coach's guidance, clients have the potential to exceed even their own expectations and discover a new outlook that impacts every area of their lives. Common areas of growth include productivity, career development, creativity, job performance, self-confidence, and more.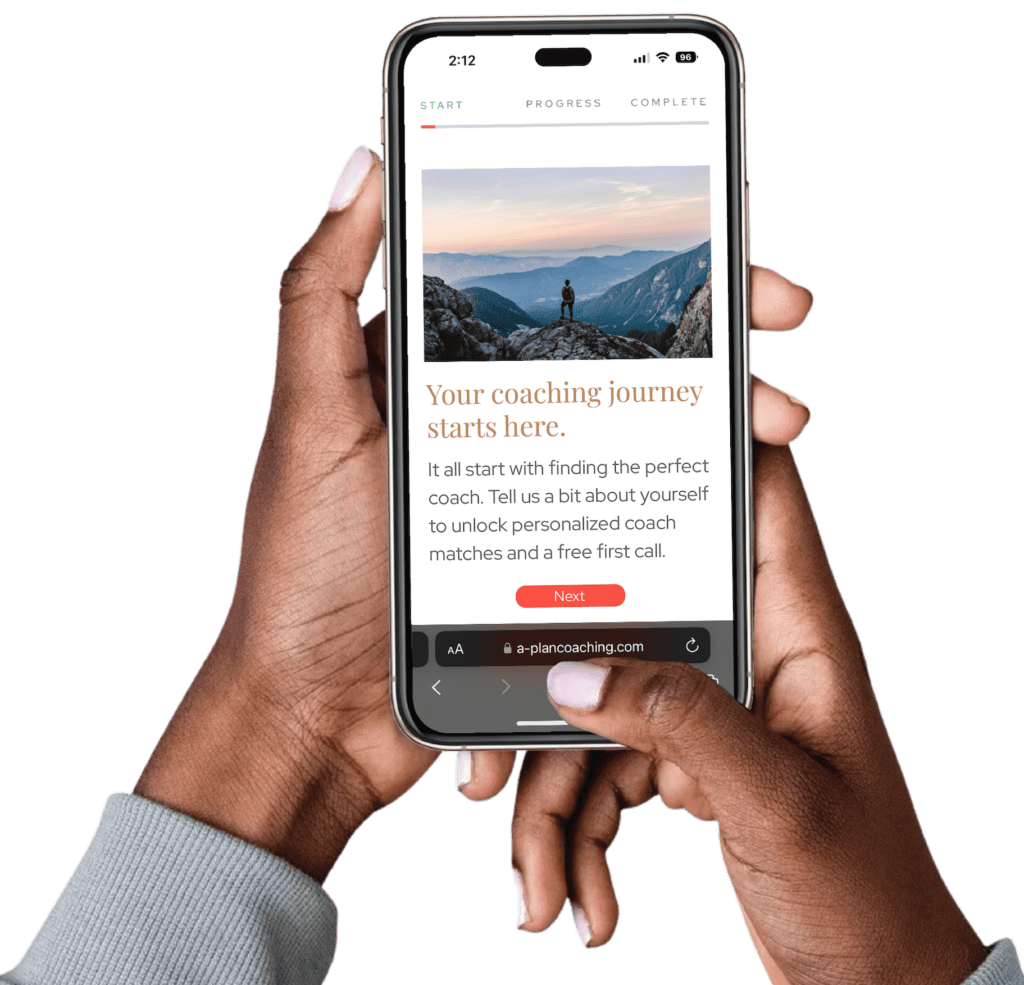 Find a coach to help improve your mindset today. Our free coach-matching tool helps you find the perfect coach in minutes.
Mindset Coaches at a)plan coaching
A coach is a powerful ally in helping you take charge of your thought process to ultimately achieve higher levels of mental well-being. Mindset coaching works its way into nearly every a)plan engagement because mindset is such a critical component of coaching. In fact, you'll often hear us use the term "coaching mindset" to describe a client who is fully immersed in the coaching experience.
At a)plan, we are dedicated to supporting clients through whole-person coaching, because we understand that mindset impacts every area of your life. The perfect coach can change everything for the better—and our 50+ highly-skilled coaches are closely vetted and trained to help clients experience lasting transformation that starts from within.
Match with the Perfect Coach in Minutes
Meaningful change starts with developing the right mindset, which often starts with finding the perfect coach. If you're ready to transform your thoughts, beliefs, and behaviors, a great place to start is with our coach-matching survey. 
Through this matching tool, we carefully consider your coach preferences to provide tailored recommendations based on your responses to the survey. Then, if a coach looks like a great match, you can meet them over a free "fit call" to determine if you'd like to move forward. Finding a mindset coach has never been easier—give it a try!
Interested in working with a mindset coach?
Take our coach matching survey to get started.