Jump to section…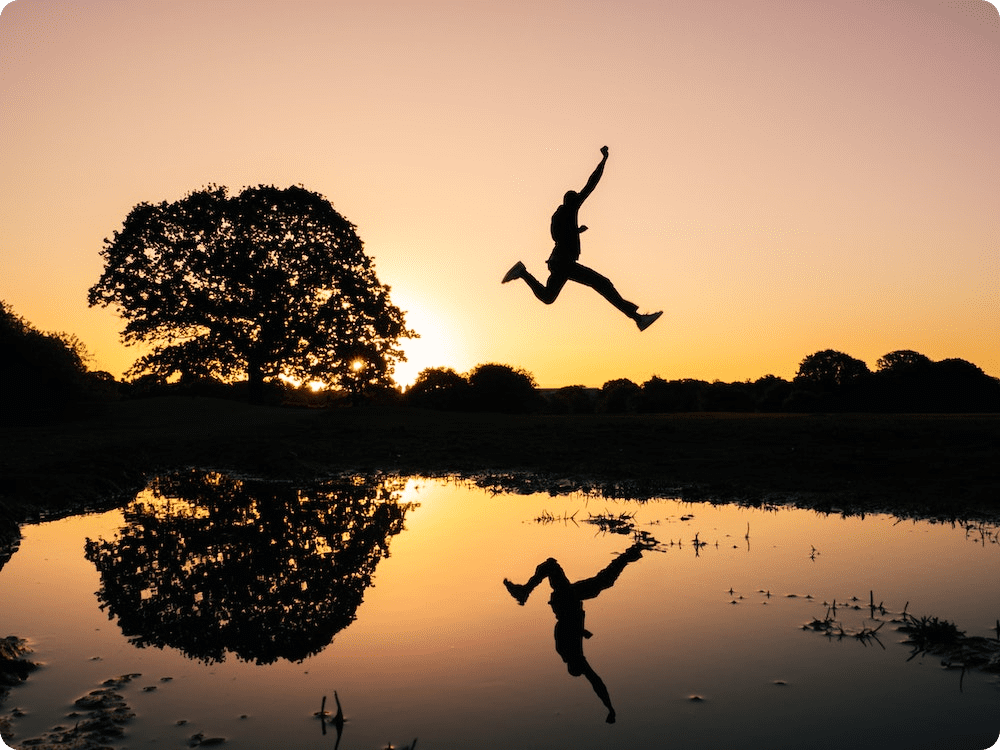 What Is a Performance Coach?
A performance coach centers their client's coaching sessions on topics like productivity, time management, prioritization, and skill development. Performance coaching is often used by entrepreneurs, managers, creatives, executives, and more to unlock higher levels of performance in their lives and careers.
At a)plan, performance represents a key pillar of our whole-person coaching approach. We've served hundreds of clients seeking to improve their performance in a wide range of fields and focuses, including management, creativity, leadership, and more.
Typically, clients using performance coaching find the most success when they embrace the concept that improving performance is the output of many different inputs. Performing better at work or seeing faster results in the gym often is not a linear formula. Instead, the coaching process challenges one to consider the whole picture. Why is motivation suffering? What is causing distractions? How might life at home be impacting life at work?
These questions and more represent the earliest stages of any successful coaching journey. Unpacking your life holistically informs the goals you'll set and the work you'll commit to over a rewarding, months-long experience with your coach.
What to Expect from Performance Coaching
What to expect from performance coaching largely depends on the coaching service or the individual with whom you choose to work. Not all coaching is the same! As explained above, a)plan approaches "performance optimization" in a unique way that guarantees results for our clients.
All a)plan clients experience consistent and standardized aspects of our proprietary approach, including launch exercises, goal setting, and weekly one-on-one sessions with their coaches. As with any great coaching engagement, the experience is designed to conform to your particular needs.
If performance is a top focus as you begin your coaching journey, then you'll benefit greatly from a deep dive with your coach into habits, behaviors, time allocation, triggers, motivators, and more. At a)plan, we always build on what works for you, while identifying what isn't as we game-plan opportunities for improvement.
In the early days of your coaching journey, your coach may also prompt you to think deeply on a key question: What does performance really look like and mean to you? For most, a well-considered answer reveals multiple layers. Just ask some of the world's top-performing athletes, who share that true performance is a matter of both mental and physical aptitude (more evidence supporting the importance of a whole-person approach).
As you get into the groove with your coach, you'll begin setting goals and creating action plans to hit them. As part of this immersive process, you and your coach may also identify knowledge or ability gaps impacting your performance. Are you fully resourced to perform well? Do you need additional training or education? The coaching process unearths the answers to these and other questions.
Examples: Who Benefits from Performance Coaching?
Anyone who feels they can bring more to the table can benefit from performance (or whole-person) coaching. While we all have unique situations, ideas, skill sets, and aspirations, the fundamental approaches and techniques learned in coaching have wide applications.
In our experience coaching hundreds of individuals to enhance their performance, here are some of the most common examples and use cases:
Ambitious professionals with career-oriented goals, like securing a promotion, raise, title, or new position at a new company
Creatives who want to optimize their creative capacity, whether it be for live performances or for optimizing their creative process
C-suite executives looking to take their leadership abilities to the next level
Entrepreneurs and founders trying to juggle the realities of start-up life, including multitasking, management, hiring, and general operation
Work-from-home employees seeking better performance by way of improved time management, productivity, and focus
Young professionals looking to get ahead of the pack in their chosen fields with top-quality work that speaks for itself
While these represent some of the high-performing folks we serve at a)plan, this is not an exhaustive list. Performance optimization as a focus finds its way into nearly all our coaching engagements, as most individuals have something important they seek to improve over time.
For many coaching clients, one week might prioritize building high-performance habits at work; the next might focus on wellness on the weekends and evenings. In this example, you'd want a coach who recognizes that a strong, fulfilling work week empowers you to prioritize wellness during the weekends and evenings. Your ability to prioritize wellness, in turn, fuels you for another high-performing work week.
How to Successfully Hire a Coach
The right coach can change everything for the better. That's why it's imperative that you understand not all coaching—and not all coaches—provides the same quality of service. Hiring a performance coach is a decision that requires forethought and determination to find the perfect match.
As you explore how to hire a performance coach, think about the qualities you want in a coach. Are they male or female? Do they have experience in your specific areas of expertise? Do they use a niche approach to coaching or a more holistic one? Without ever actually experiencing coaching for yourself, you can do some due diligence to make sure you're not just saying "yes" to the first coach you find.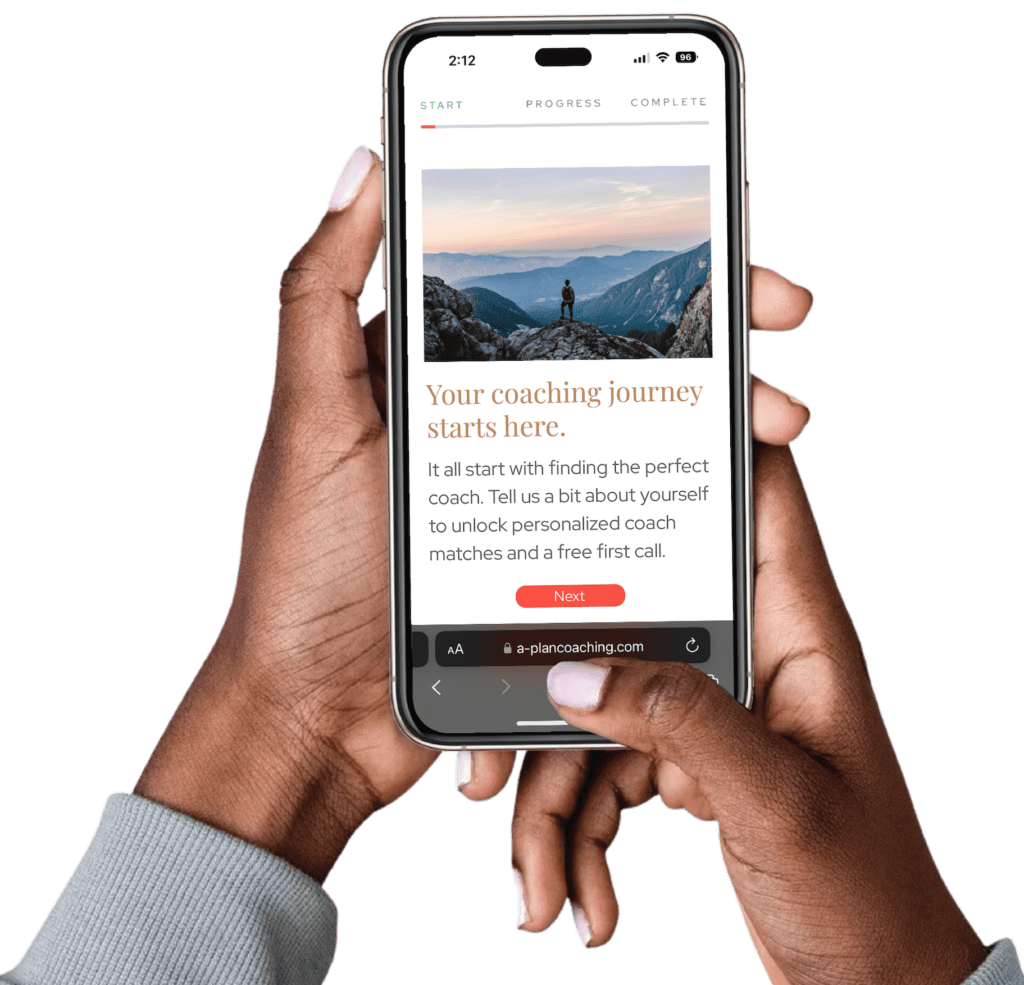 Looking for a performance coach? Our free coach-matching tool helps you find the perfect coach in minutes.
Performance Coaches at a)plan coaching
We are proud of our roster of nearly 60 coaches at a)plan and our extensive vetting of each and every one of our coaches. We're not trying to be the biggest coaching provider, but rather the best—and that north star is reflected in the superior quality of our coaching talent.
As mentioned earlier, "performance coaching" finds its way into nearly all our coaching engagements. To that end, all our coaches serve as performance coaches. Our clients represent ambitious individuals dedicated to the forever work of self-improvement. As a supplement to that effort, they work with their coaches on a weekly basis to stay on track, to be held accountable, and to create action plans to hit their goals.
To find the perfect coach fit to your bespoke needs, try out our free coach matching tool. In 10 minutes, you can receive three coach recommendations based on your specific survey responses—and it's entirely free!
Interested in working with a performance coach?
Take our coach matching survey to get started.