Jump to section…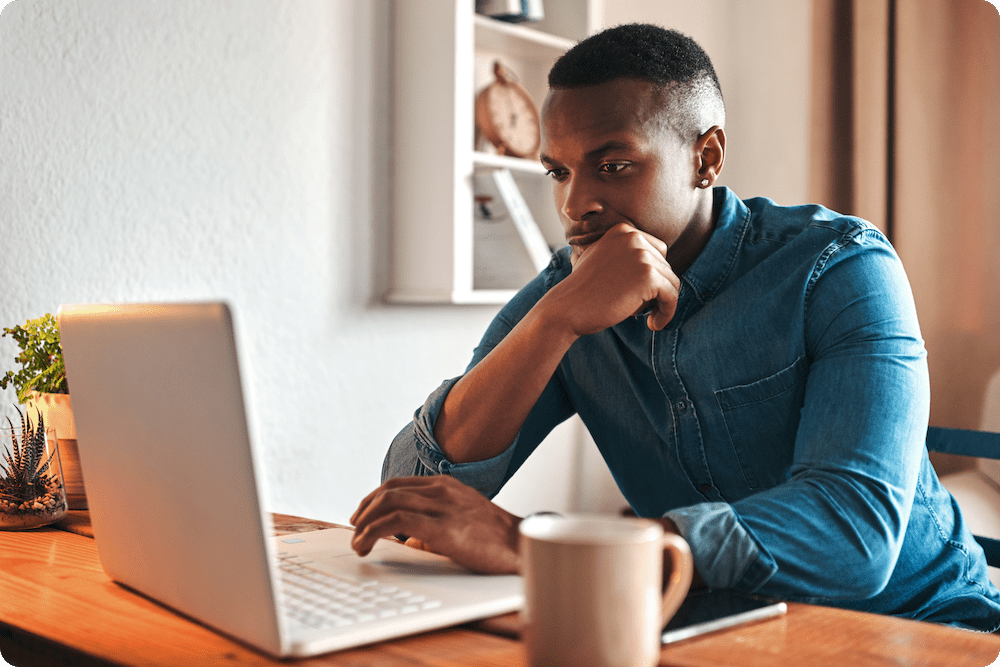 What Is a Life Coach for Men?
A life coach for men works with men to help them improve self-identity, fulfillment, purpose, and balance in key areas of their lives.
While coaching is not a gender-specific resource, coaching for men acknowledges that some coaches have more familiarity working with men through challenges and needs specific to a man's life experiences.
At a)plan coaching, we prioritize "whole-person coaching," a holistic approach to life coaching. Our coaches understand that we are all whole-person creatures with needs or desires that may be neglected. While a client may seek change in a particular area—career, confidence, productivity, etc.—we understand the path to change requires us to look at a person in his entirety.
To experience more confidence or increased productivity, you may need to optimize other areas of your life, like mindset and self-worth. Through this approach, a coach helps identify disadvantageous thoughts, behaviors, and patterns to you help correct the course as needed to experience sustainable change.
Why Do Men Need Life Coaching?
Despite progress over the last 10 years in calling out toxic masculinity and breaking down barriers of traditional gender expectations, many men still navigate life in ways that can make them feel lonely, less supported, or unfulfilled. Great life coaches for men work with men to unpack those emotions and help them find solutions that transform their outlook on life and shape their relationships for the better.
A man might want or need coaching for many reasons, some of which are discussed in the next section. Fundamentally, a life coach for men helps with internal digging to uncover what you care about and what you really want for your life. Using that information, a coach can help you shape your life for the better, whether that means adopting new habits with family, reprioritizing time and attention, or adjusting behaviors to lead you closer to your goals.
Coaching for Men: 3 Common Use Cases
Life coaching for men can help you rediscover your purpose, reconnect in your relationships, and revive key areas of your life where you feel stagnant. Here are a few of the most common reasons men choose to hire a coach.
To Explore Identity and Fulfillment
As a man, you may feel your identity and worth are directly tied to your work. With heightened pressure from society, it can be easy to prioritize productivity and results over everything else: relationships, self-fulfillment, and even rest and rejuvenation.
Many men want to rediscover who they are outside of work. Some come to realize they are "workaholics" and want more out of life. Coaching is a space to get real about the important questions: Do you feel fulfilled? What's your purpose? What brings you joy? Who are you as a person?
Some men face these questions more directly as they age, perhaps as they begin working less or their relationships change. A life coach for men helps clients unpack these questions, find answers, and make adjustments to rediscover their identity and purpose.
To Strengthen Relationships
Many who try life coaching for men want to invest more time and energy in their relationships: marriage, children, and friends. For some, sharing a few beers on football Sunday is the extent of their social world, which might not be emotionally fulfilling enough.
We at a)plan understand that fulfillment is often correlated with interpersonal relationships, purpose, and passion, but many feel lost when it comes to those parts of life. Through our whole-person approach to coaching, our clients discover how to reconnect with their most authentic selves to establish meaningful relationships with others.
As a Starting Point for Emotional Support
While some men may know the areas of life where they seek change, knowing how to catalyze that change can feel overwhelming—like they are looking up from the base of a mountain. Some may feel depressed, unsure whether it's a clinical issue or just the loss of identity. Some might even be tempted to self-assess, searching online for answers to "How do I improve my relationships?" or "How do I find my passions?"
Men need more resources to walk this path of self-exploration. That is the purpose of coaching. Coaching for men can provide the structure, guidance, and accountability to begin unpacking emotions and exploring solutions that lead to more balance, emotional fulfillment, and joy.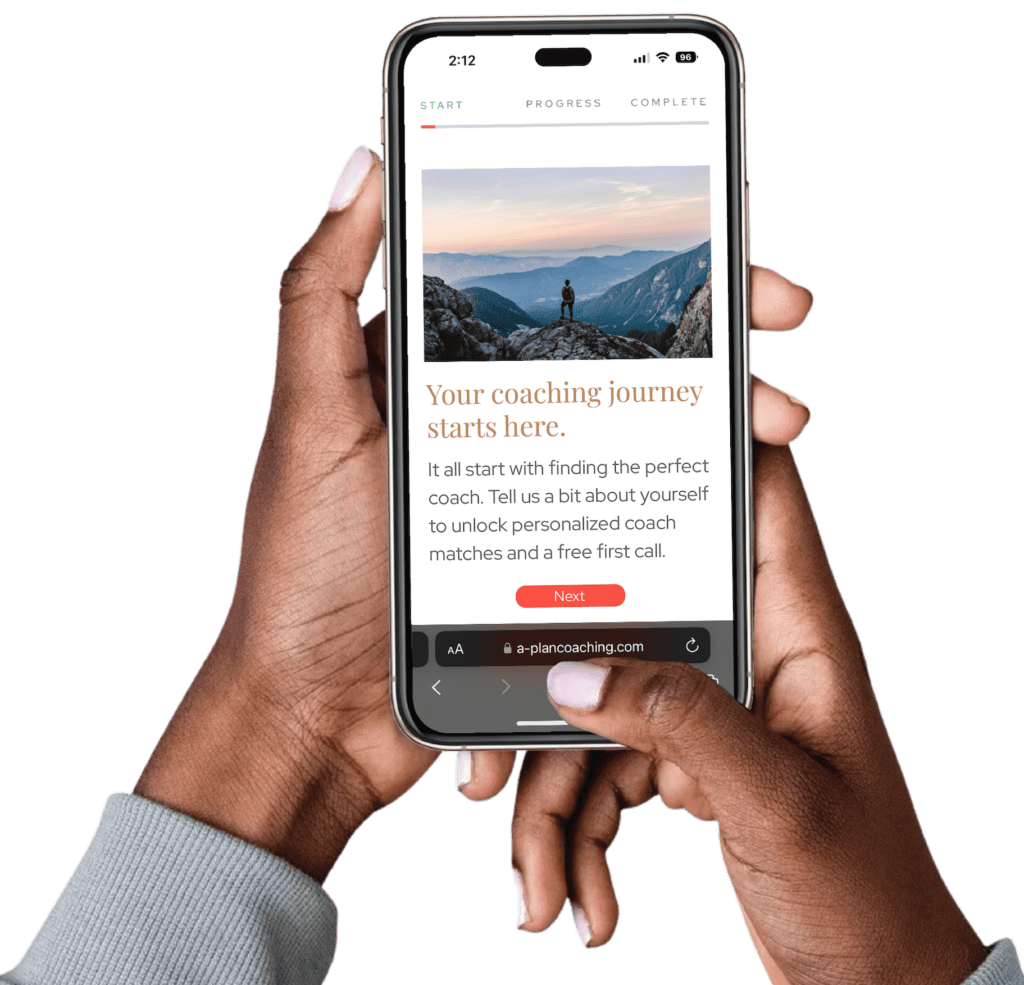 Ready to start your coaching journey? Our free coach-matching tool helps you find the perfect coach in minutes.
Tried Therapy? Here's How Coaching is Different
Many who consider life coaching for men have already tried therapy and desire something different. While there are some key similarities, therapy focuses primarily on unpacking historical traumas and healing past wounds as a starting point for future change.
On the other hand, coaching offers practical ideas and strategies to practice and work on like homework. A life coach for men focuses on future-oriented solutions to improve the present.
At a)plan coaching, our clients come to us seeking someone who can give a strategic perspective and tangible solutions. Whereas therapists are trained to search for diagnosable problems, our coaches are skilled at identifying old habits and building new ones that can lead to greater well-being and success.
Life Coaches for Men at a)plan coaching
At a)plan, we have served hundreds of men, helping them to achieve greater clarity, confidence, and performance. Our roster of 50+ coaches features dozens who have worked closely to help men with common challenges, including:
Exploring and managing emotions such as anger, sadness, and guilt
Navigating and improving relationships with a spouse, children, or friends
Developing healthier communication patterns
Constructing a strong sense of self-worth beyond work
Identifying and achieving business and career aspirations
Our coaches are knowledgeable and experienced in helping men take control of their lives to start moving toward the futures they desire.
Match with a Men's Coach at a)plan
At a)plan coaching, we understand that finding the right coach makes all the difference. Our coaches have unique skill sets, backgrounds, and experiences, so whatever it is you want to accomplish, we have someone who can best help you get there. Our entire team has undergone our rigorous vetting and training process to provide you with the highest level of support.
If you're looking for the perfect coach, a great place to start is our coach-matching survey. We'll ask you a few questions about yourself, covering the areas in which you want to improve and the outcomes you desire. This process considers our coaches' genders, time zones, and areas of expertise to provide you with customized coach recommendations. If any coach looks like a great match, you can meet them for a compatibility call—and the whole process is entirely free.
Interested in working with a men's coach?
Take our coach matching survey to get started.