Jump to section…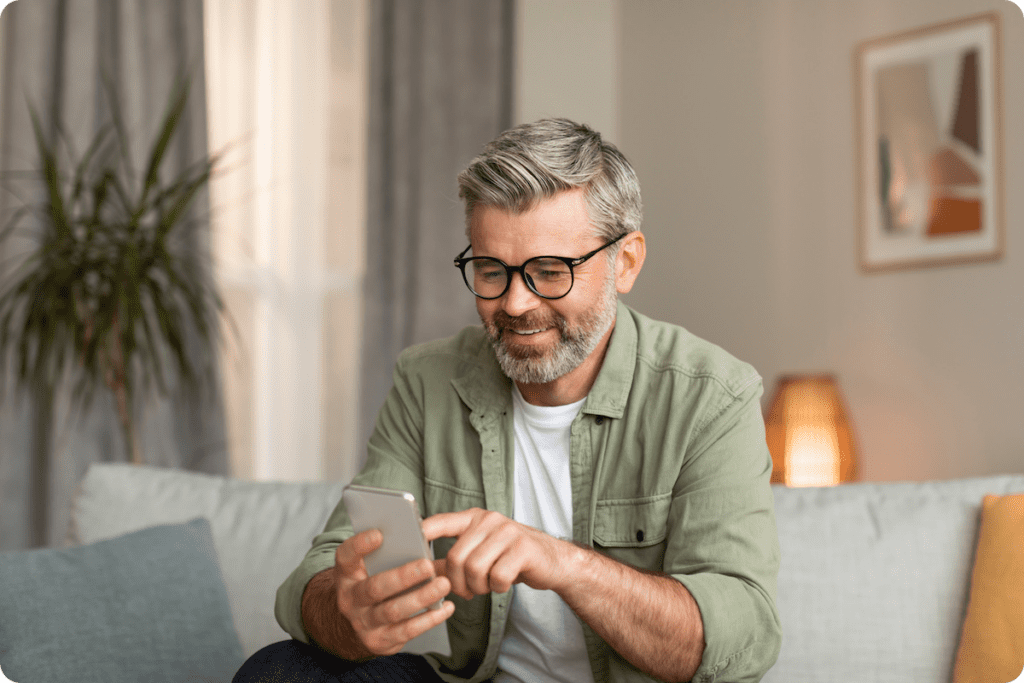 Do you want to become a more effective communicator to increase productivity in the workplace or improve your interpersonal relationships? Communication is a learned skill used to express needs, instructions, goals, and expectations more efficiently. Whether you're a leader wanting to improve conflict resolution or an individual seeking to boost your confidence, you can get there with the help of a communication coach.
What Is a Communication Coach?
A communication coach works with clients to develop communication skills for a variety of purposes, including career development, relationship management, confidence building, and overall personal growth.
Communication coaching can take many forms. Individuals may use it for bespoke reasons in a one-to-one format. Organizations may use it to help their employees and teams improve communication among one another—often in a group coaching format. 
At a)plan coaching, communication represents one of the foundational components of our whole-person coaching approach. Our coaches help clients improve their communication by first identifying any areas that may be impacting their ability to communicate effectively. Then, it's a process of goal setting, planning, experimentation, and consistent work. This work typically takes place virtually through weekly coaching sessions. Or, we may conduct coaching in person for larger engagements involving organizations.
Who Uses Communication Coaching?
Anyone with self-development goals may benefit from communication coaching. At a)plan, we've served everyone from young adults looking to improve their communication to C-suite executives at the highest levels of their organizations.
More specifically, communication coaching is beneficial for those who want to:
Improve interpersonal relationships with a spouse, family members, or friends
Enhance effective communication across teams and within organizations
Build better partnerships with peers and colleagues
Create clarity around goals and expectations in the workplace
Manage conflict and deliver feedback more efficiently
4 Benefits of Hiring a Communication Coach
Coaching that builds communication skills can positively impact relationships, career moves, confidence, and growth. Here are some benefits you can expect to enjoy with this coaching focus.
1. Improve Your Relationships & Interpersonal Skills
Personal development as a result of communication coaching impacts your relationships for the better. Whether it be with your partner, friends, or family, you'll discover strategies and opportunities to improve conflict resolution, communicating your needs, and being honest.
Improving communication requires us to dig deeply to improve how we give and receive feedback, to make requests at the right times, and to develop our empathy skills. Words carry meaning that can have real consequences—an essential understanding of effective communication. By using conscious language, we can hold more productive conversations that foster better understanding.
2. Enhance Your Career Trajectory
Communication coaching can enhance your career trajectory by optimizing your capacity for public speaking, presentations, leadership, conflict resolution, and more. Good communication helps you instill trust in teams and employees, while positioning you as a role model in your organization, even if you don't hold a leadership title.
For some professionals farther along in their careers, executive communication coaching is a more niche focus on the same topic, aiming to equip leaders to become better communicators. For example, executives can learn how to better communicate role expectations, give feedback, or lead employees through change management, while speaking clearly, with empathy and understanding.
3. Increase Your Confidence and Self-Esteem
Great communication and confidence go hand-in-hand, as it's hard to have one without the other. Low self-esteem may inhibit someone from communicating at their fullest potential, whether delivering a speech or conversing with someone new. 
However, belief in yourself makes it easier to communicate effectively. Being confident doesn't mean being loud or dominating the conversation. Instead, it's about conveying your points through concise words, confident body language, and self-assurance.
When you're a great communicator, confidence often follows, because you have smoother relationships, gain respect, and leave less to the unknown (a source of anxiety for many). a)plan clients simultaneously boost their confidence, self-esteem, and communication abilities—yet another example of the whole-person coaching method at work.
4. Opportunities for Personal & Professional Growth
As a catchall benefit, coaches are generally trained to help you grow personally and professionally. This might mean sharpening your toolbox for a big negotiation, an intimidating conversation, or overcoming imposter syndrome in your role at work. Whatever the case, bespoke coaching meets you where you are to provide customized support.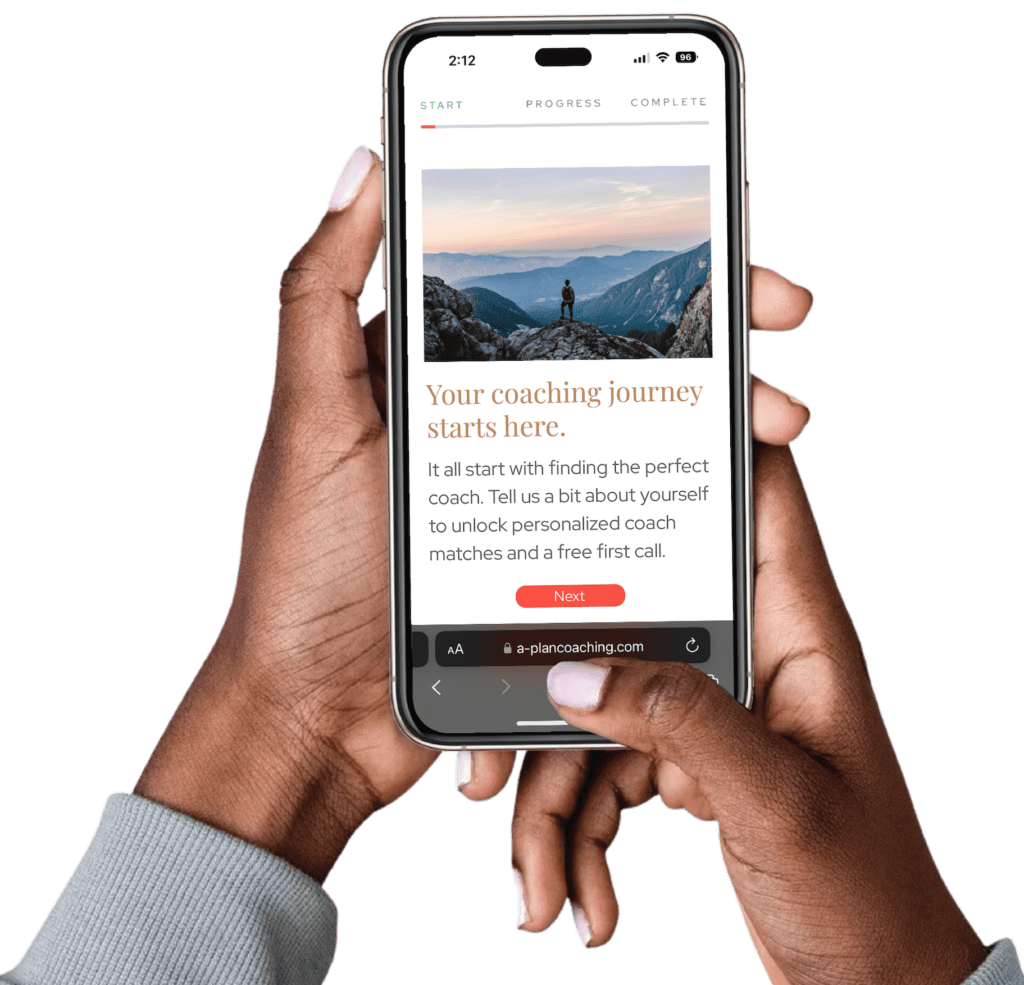 Find a communication coach today. Our free coach-matching tool helps you find the perfect coach in minutes.
What Is Involved in Communication Coaching?
At a)plan, we always start coaching engagements by building on what's working. In relation to communication, we analyze where you are today and where you'd like to be in the near future. Next comes a process of creating action plans and strategies to hit agreed-upon goals between coach and client. Our approach is designed to maximize results as you strive to improve communication. Some defining differentiators of our coaching method include:
Our vetted roster of 50+ diverse coaches, all of whom have experience helping clients enhance communication skills
Our high-touch approach which includes weekly 1:1 sessions and unlimited texting access with your coach
Our coaching app which encourages micro-accomplishments, goal tracking, and gratitude lists
Communication-specific work may include role-playing conversations, learning new frameworks for giving effective feedback, preparing for important moments (like an interview or negotiation), and unpacking blockers to success.
Communication Coaches at a)plan
Compatibility with a coach is a significant predictor of success. It's essential for clients to feel comfortable, communicating openly and honestly with their coach to ensure their needs and expectations are met. That's one reason we prioritize having such a diverse coaching roster at a)plan.
While some of our coaches specialize in communication, public speaking, and confidence, these focal points are core to dozens of a)plan engagements. Most of us have moments in life when we could use some extra support in this space. To that end, any of our expert coaches are qualified to serve as communication coaches.
Finding the Right Coach for You
More than 95% of our clients love the first coach they choose, largely thanks to our coach-matching tool that considers your needs and our coaches' expertise. The goal is to pair you with the perfect coach who is best suited to serve your personal interests.
After completing the short survey, you'll receive a personalized list of our top three coach recommendations. From there, you can schedule a free compatibility call before selecting a coach to support you on your journey. Your road to becoming a better communicator starts here!
Interested in working with a communication coach?
Take our coach matching survey to get started.