Are you considering the pursuit of a healthier lifestyle or do you need guidance navigating your wellness journey? Discover what a health and wellness coach does to empower and support you in bettering your physical and mental health. 
What Is a Health and Wellness Coach?
A health and wellness coach works with clients to improve their relationship with foundational concepts within the health and wellness space. This may include nutrition, fitness, sleep, mindfulness, and more. This resource has risen dramatically in popularity for a few good reasons:
There's a growing awareness and understanding of the importance of preventative health. Rather than dealing with health issues as they arise, people are more interested in adopting healthy habits to prevent these issues from occurring in the first place. Health and wellness coaching fits perfectly into this proactive approach, as it focuses on fostering healthy behaviors and lifestyle changes.
The surge in chronic diseases, such as obesity, diabetes, and heart disease, has highlighted the need for habit guidance and mindset support for those suffering from these conditions. Coaches may provide that support, helping clients navigate their health journeys and make positive changes. 
The stress and uncertainty of modern life have led many people to seek help in managing their mental and emotional well-being. The holistic approach of health and wellness coaching, which encompasses physical, mental, and emotional health, is particularly appealing in this regard. 
Every health and wellness journey is different. At a)plan, our coaches who specialize in this topic take a personalized approach to uncover the root causes of wellness issues in clients and develop actionable plans that lead to sustainable results. (No crash diets or intricate workout plans here!) 
The Rapid Rise of Health and Wellness Coaching
The health and wellness coaching space has seen incredible growth over the past decade. According to ICF's 2023 Global Coaching Study, "In 2022, the estimated number of coach practitioners exceeded 100,000 for the first time, reaching 109,200, representing a 54% increase on the 2019 global estimate." Many of these coaches specialize—at least in some way—in health and wellness, which is one of the most common focuses of coaching engagements today.
According to McKinsey, the wellness market was valued at $1.5 trillion in 2021. Consumers define wellness as:
Better health
Better fitness
Better nutrition
Better appearance
Better sleep
Better mindfulness.
Generally speaking, these are some of the main pillars that define health and wellness. As such, they are also some of the biggest focuses of health and wellness coaching engagements.
What Does a Health and Wellness Coach Do?
A health and wellness coach works with clients, using time-tested coaching strategies geared toward health and wellness goals. This involves a mix of some predictable work, including reflection, self-assessment, goal setting, progress tracking, and consistent accountability.
At a)plan, we take our coaching process a step further to create an integrated support system for our clients. Coaches meet with their clients weekly via our virtual coaching app and dashboard. They may also communicate asynchronously through chat between sessions and receive accountability and feedback from daily activities and practices within the app. 
Coaching & Wellness: Understanding the Overlap
Fundamentally, coaching is a self-improvement resource. Through coaching, individuals buy into the idea that the future is not set in stone. You can make it what you wish. That backdrop is closely aligned with perspectives shared in the health and wellness space. There is a shared belief and understanding that improvement is always attainable, and better versions of ourselves are on the horizon.
It's very common for coaching clients to want to focus on health and wellness themes in their work with their coaches. To that end, more coaches probably serve as "health and wellness coaches" than you'd think. Working on a breathing method, an exercise routine, or a meditation practice are examples of common coaching focuses that overlap with health and wellness.
Should You Work with a Coach?
Coaching can help, no matter where you are on your journey. Maybe you know exactly what you want to focus on, or maybe you're just getting started and all you know is you want to make a change. A coach meets you wherever you are.
Here are some questions to ask yourself which might help you decide if health and wellness coaching is a resource that might fit nicely into your life:
Are you willing and able to carve out real time for self-development?
Are you okay with the idea that change takes time, repetition, and accountability?
Are you willing to be reflective and vulnerable at times with a coach you trust?
Do you believe you are in control of your life and what you make of it?
Are you ready to live the life you really want?
These are some good, qualifying questions to help you understand if coaching will fit into your life in a way that can create sustainable, positive change.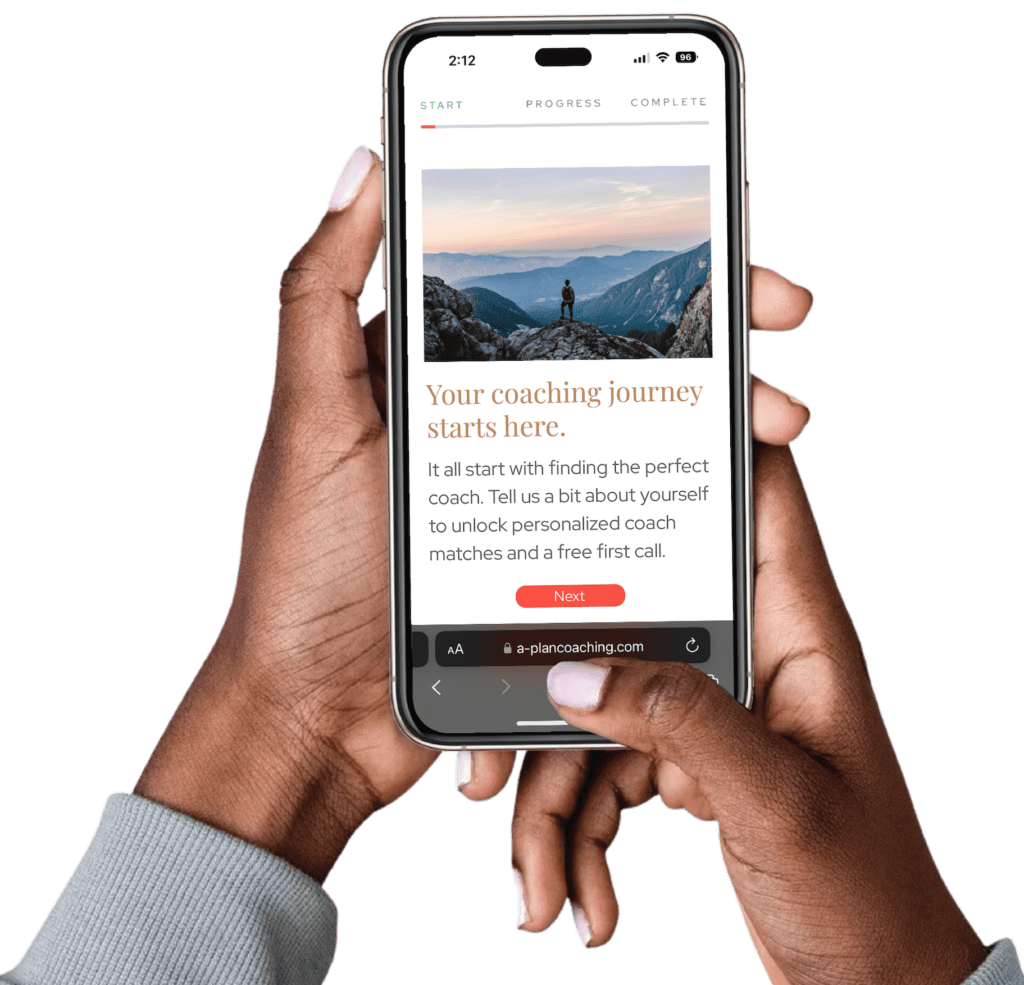 Our free coach-matching tool helps you find the perfect health and wellness coach.
Top Health and Wellness Coaches at a)plan
At a)plan, we believe in a whole-person approach to coaching. We understand that health and wellness are not just about diet and exercise, but also about your overall lifestyle, habits, behaviors, and mindset. This holistic view forms the foundation of our training program for our coaches.
Additionally, we know improving health and wellness isn't a one-size-fits-all solution. It requires personalized strategies that consider an individual's unique circumstances, preferences, and goals. Our coaches foster a supportive and nonjudgmental environment. Our approach is not to just offer advice, but rather to listen, understand, and guide clients toward solutions that are sustainable and aligned with their personal values and aspirations.
Are you ready to start your journey to better well-being with health and wellness coaching? Complete our coaching matching survey today to match with three recommended a)plan coaches, and schedule a free fit call to get started today.