Jump to section…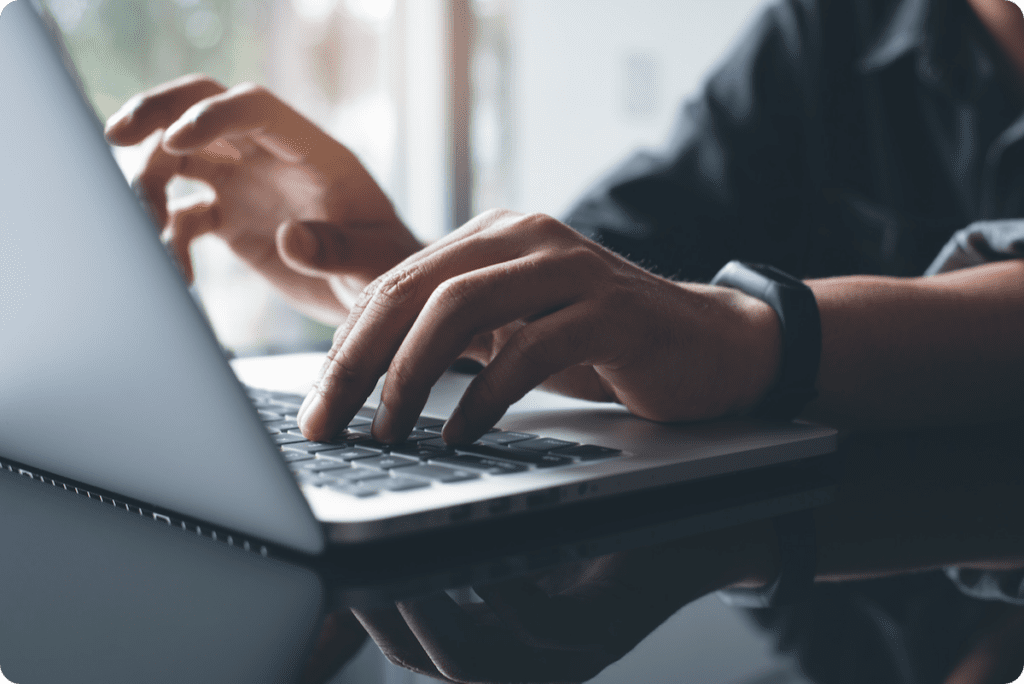 We all have relationships—whether with friends, family, a spouse, or business partner. By approaching our relationships intentionally, we can improve our shared experiences and create healthy connections in all aspects of work and life. For a growing number of individuals, relationship coaching is the bridge to a future defined by better, healthier relationships.
What Is a Relationship Coach?
A relationship coach typically works with an individual or a couple to improve the overall health of their relationships. Like many forms of coaching, relationship coaching involves setting goals, changing habits, shared agreements, and consistent sessions to achieve progress over time.
It's important to note that this type of coaching is not limited to "romantic" partnerships. At a)plan coaching, we help our clients work on all types of relationships, including those in business or with family, friends, spouses, and more.
While the subject matter and focus of coaching depend on the type of relationship, the underlying coaching principles remain the same. At a)plan, we approach all types of coaching using our proven and consistent process. Our methods don't change, but they are adaptable in that they can be applied to the client's bespoke situation—whether that means coaching for love, business, or something else.
How Does It Work?
No matter the focus, relationship coaching typically follows similar patterns. The coach works closely with the client or the couple via weekly sessions focused on shared goals. At a)plan, we start this process by taking inventory of your current relationship(s) and dreaming up your ideal vision and what you really want from them.
Then, the coaching process revolves around mapping out ways to get that ideal vision, and checking in consistently to hold all parties accountable for making progress toward shared goals. This includes utilizing the a)plan app to reach your coach anytime via messaging within the app.
Our coaching is designed to be an ongoing supplement to life and work. Self-improvement is forever work, and that goes for personal development within relationships. Coaching is the ultimate first step toward creating your desired relationships.
Common Types of Relationship Coaching
Relationships are an intrinsic part of our lives, and they have the power to positively and negatively shape our experiences. Relationship coaching empowers individuals to create positive interpersonal connections, whether with a significant other, colleague, family member, or friend.
Coaching for Love
The need for "romantic" relationship coaching can stem from many things, including unresolved conflict, poor communication, or a desire to deepen a connection by tapping into one's emotions. Individuals and couples seek coaching to learn how to enhance communication, cultivate trust and vulnerability, reduce arguments and conflict, and strengthen their bonds.
A relationship coach works with a romantically involved couple on topics such as setting and respecting boundaries, breaking bad habits, or navigating life circumstances. Additionally, individuals may seek coaching without their partner to discuss topics like divorce, remarriage, being single, or dating.
In some cases, an individual or couple may need to dive deeper into their past to identify areas in need of healing and restoration. Understanding the differences between coaching and therapy can help you decide the best professional to help with the current state of your relationship. If you desire change in your relationship and want to learn strategies and tools to implement now, a coach can provide the necessary accountability and guidance. 
Coaching in Business
Executives, founders, business colleagues, and managers can also benefit from relationship coaching. This work challenges them to ask: What needs addressing in our partnership? Where are the opportunities for improvement? What are our shared goals?
Relationship coaches in business work with founders or leaders of an organization on self-awareness, communication strategies, emotional intelligence, conflict resolution techniques, and team-building exercises—all of which are essential to a successful business venture. The focus typically starts with identifying a shared goal or desire for the company and mapping out a plan to realize it.
Holistic Coaching
Outside the realms of romance and business, we all foster important relationships with siblings, parents, friends, co-workers, and more. Like all relationships, these require effort and intention, too.
Holistic relationship coaching can be defined as a general desire to improve one's relationships by focusing on personal growth. Typically, this doesn't involve multiple clients working with the coach, as it might for a couple or business partners. Instead, a coach works with an individual to address topics such as increasing confidence to make new friends, active listening techniques, effective communication strategies, and navigating conflict without burning bridges.
When to Hire a Relationship Coach
At a)plan, we believe we can all continually improve as individuals, lovers, business partners, and friends. To that end, a coach can generate positive returns for anyone.
Deciding when to hire a coach comes down to when you're ready to commit to the self-discovery and reflection work essential to experiencing change. Just "hiring a coach" doesn't make things better. However, investing in your coaching experience and engaging in the work involved will improve your relationships. If you're ready to make that leap, the right time is now.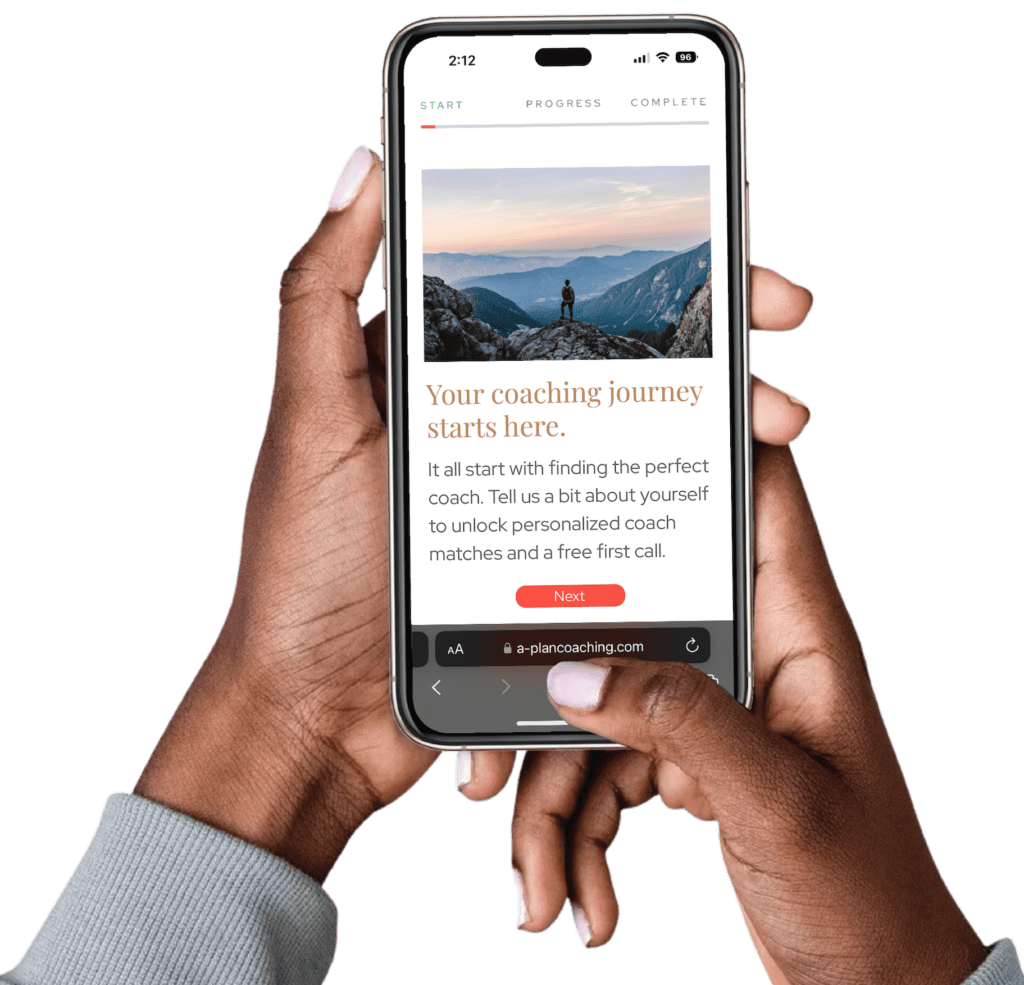 Our free coach-matching tool helps you find the perfect coach in minutes.
Relationship Coaches at a)plan
We take this topic seriously at a)plan. Our roster of 50+ coaches includes dozens of relationship management experts who have helped hundreds of clients. Through compassionate and thoughtful dialogue, our relationship coaches skillfully address all kinds of challenges you may be experiencing—communication barriers, anger management, problem-solving techniques, trust-building, and more. Our job is to help you develop self-awareness and new strategies to enhance your interpersonal connections. 
Match with the Perfect Coach
Compatibility in relationships is essential, and that goes for your coaching relationship as well. This is why we developed our coach-matching tool for connecting clients with coaches based on shared values, areas of expertise, and desired outcomes. 
If you're seeking relationship coaching with a romantic or business partner, then complete the survey together or reach out to us today to discuss your unique situation. If you opt for the coach-matching survey, you'll receive a personalized list of our top coach recommendations. Then, you can schedule a free compatibility call with the coach of your choice and decide if they are the right match for you.
Interested in working with a relationship coach?
Take our coach matching survey to get started.