Jump to section…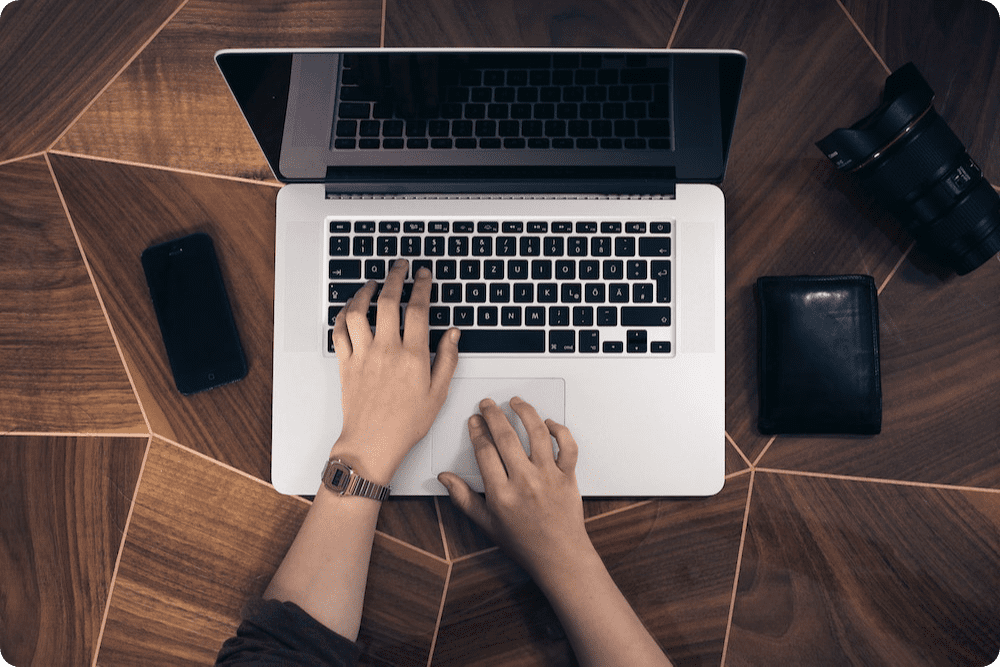 As Harvard Business Review (HBR) reminds us, success is a subjective construct that changes from person to person, depending on their own goals and aspirations. That means any resource aiming to optimize for success must be customizable to fit any individual's unique needs. In this post, learn why success coaching is that perfect resource for a growing number of individuals.
What Is Success Coaching?
A success coach collaborates with clients to plan and pursue success in whatever form that may be—from career success to business success to financial success to relationship success and more.
In success coaching, clients gain access to tools, strategies, and thought partnership that helps them achieve whatever success looks like to that individual. At a)plan coaching, this work takes place via virtual 1:1 coaching sessions between coach and client each week.
Success coaching may look different from engagement to engagement, depending on each client's goals and aspirations, but the underlying coaching approaches and techniques remain consistent. For example, in all a)plan engagements, our coaches work with clients on:
Building practical strategies toward identifying and realizing goals
Identifying clients' strengths to map out effective action plans
Motivating clients to achieve what they define as success
Using the a)plan coaching app to track progress and celebrations
Providing follow-up encouragement, ideas, and accountability
At a)plan our consistent whole-person coaching approach meets clients wherever they are in life or work. Our method is backed by research in neuroscience and behavioral psychology and has helped clients achieve success in thousands of nuanced ways.
When Should You Try Success Coaching?
At what point should you try success coaching? It largely depends on your capacity to commit to self-improvement and the work that comes with seeing meaningful growth and progress in your life. Here are some common scenarios that indicate that you might benefit from working with a success coach.
When you don't have the proper systems in place:
It's helpful to view your future success as a system that must be created and maintained. We create systems for countless things in business and life in an effort to build and sustain success. Just think: we create systems to maximize profits for our companies, systems to maintain healthy diets, systems for time management, and more. Setting up systems around your success, however you may define it, is no different!
A success coach guides you through the process of changing habits, identifying your own behaviors, and making key changes that allow for the creation of new systems. Then, like any other system, success depends on commitment and maintenance—things that your coach will continue to help with.
When you feel stuck:
It's human nature to have moments when you simply feel stuck, especially when you have lofty aspirations that may feel unattainable. Hiring a success coach could be just the key to getting past those initial blocks and providing you with the answers you need to move forward.
An interesting thing happens the moment you hire a coach: You take a distinct action to move out of the problem and into the solution. Coaching is the ultimate first step toward success because it's an investment in feeling unstuck. It may be just one step, but it's a major step in a positive direction.
When you're facing decision fatigue:
In an age where information is so abundant and accessible, determining your next right action or decision can be harder than you might expect. This is sometimes referred to as decision fatigue. Often the problem isn't identifying what you want, but rather how to get what you want through subsequent decisions. Success coaching is a place to hold reflective and useful discussions around how to make your ideas possible through step-by-step strategy.
Coaching results typically require at least three to six months of work involving consistent goal setting, progress tracking, and planning with your coach. However, once a client successfully develops a "coaching mindset," coaching is designed to be a consistent and ongoing supplement to one's lifelong pursuit of success and self-improvement.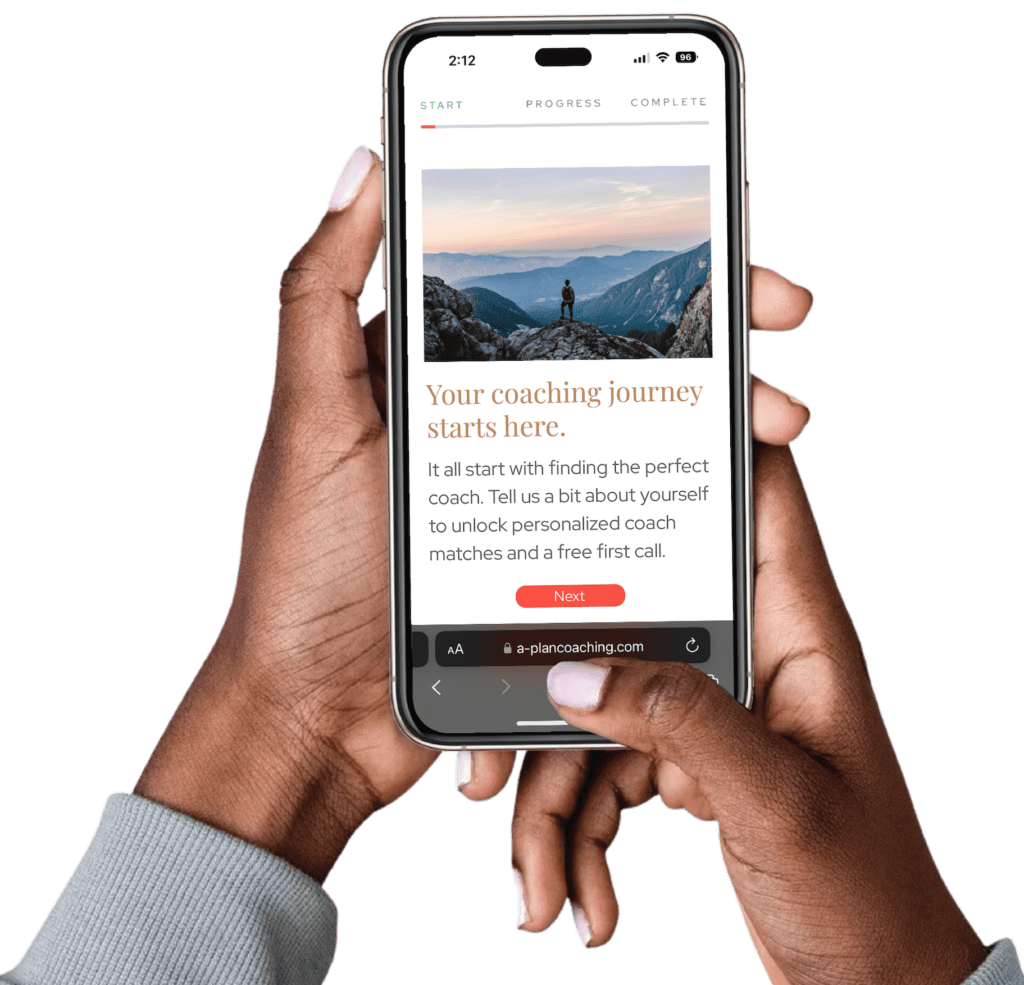 Find a success coach today. Our free coach-matching tool helps you find the perfect coach in minutes.
Example Goals to Set in Success Coaching
The beautiful thing about coaching is that the experience is entirely yours. That means you and only you shape the focus, goals, and ambitions that define the coaching engagement! Your coach's only agenda is your success and fulfillment.
At a)plan, we've worked with hundreds of clients in a success coaching capacity. Coaching goals may range widely, depending on your own definition of success. That said, some common example goals include:
Securing a promotion or a raise at work by a certain date
Launching a business and/or hitting certain business milestones
Creating a new daily routine to achieve more wellness and happiness
Improving a crucial relationship in your life
Preparing and acing an event, a presentation, or a major life moment
A Useful Formula for Success
Success doesn't happen by sheer accident or by chance. It happens as a result of intent, planning, and action. At a)plan, we often refer to a simple formula that summarizes our perspective on success:
Success = Performance x Wellness (wellness may be either a positive or negative multiplier)
In other words, success results from combining both the quality of the actions you take (performance) and how you feel while taking them (wellness). Coaching is the perfect place to dissect this formula and build your life around it. The notion that performance and wellness are linked is an essential key to success and a critical factor in understanding our whole-person coaching approach.
Success Coaches at a)plan coaching
At a)plan, our entire coaching approach is built on the foundation of goal-setting for success. While setting goals, our clients are prompted to think deeply and ask themselves some critical questions related to success:
What do you really want?
What does success look like for you?
Picture your ideal life a year from now. What is different in your work life? Relationships? Fitness? Friends? Family? Living situation? Health?
Questions like these help our clients identify what they define as success and the best ways to pursue and efficiently achieve it. As we've covered, success is personal and subjective, and that makes it all the more important for you to find a coach compatible with your needs and preferences.
At a)plan, our roster of 60+ coaches features a diverse range of professional experts who are passionate about coaching and are fully equipped to guide you toward meeting your goals. Our coaches have a strong track record helping clients achieve meaningful life and career breakthroughs—a key reason the majority of our clients report an increase in fulfillment after just three months of coaching.
Match with the Perfect Success Coach for You
To help new and existing clients find highly compatible coaches, we created a coach-matching tool through which you can receive three personalized coach recommendations in about 10 minutes. And it's entirely free! For anyone looking for a great first action to take as they search for the perfect success coach, there's no better place to start.
Interested in working with a success coach?
Take our coach matching survey to get started.