Jump to section…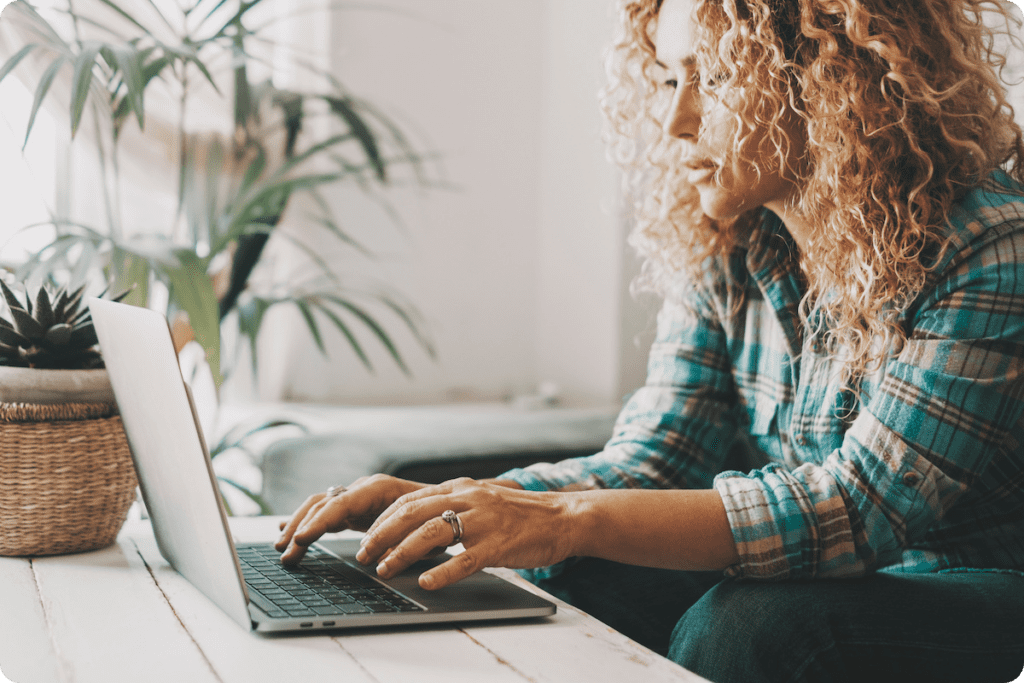 In today's world where technology has become an integral part of our lives, it's no surprise that digital coaching has emerged as a preferred way to achieve personal and professional growth. In this article, discover how digital coaches use technology to help clients get the most out of life and work on a daily basis.
What Is Digital Coaching?
Digital coaching is a term used to describe coaching—whether it be life, career, wellness, performance, or any other type of coaching—that is conducted digitally. Also commonly referred to as virtual coaching, this resource is made possible by the technology we use every day—from laptops to phones to coaching apps that enhance the experience.
With digital coaching, clients have the opportunity to work with coaches from different parts of the world, who can provide valuable insights and fresh perspectives. At a)plan, most of our coaching engagements are conducted virtually, using innovative technology to help clients improve communication skills, become more productive, achieve success in their careers, and more.
Our investment in the digital side of our coaching business is part of our commitment to making coaching accessible to the masses—to "democratize" coaching. By assembling a team of 60 expert coaches around the globe, we've built a system that allows us to serve clients anywhere in the world, thanks to the internet and our coaching technology.
What Do Digital Coaches Do?
A digital coach is a real person who offers coaching services virtually, using various types of technology to create the experience. To elaborate on the previously mentioned a)plan app experience, our coaches and clients use our app daily to track goals and gratitudes between weekly sessions. By using online platforms and tools, our coaches make sessions accessible and convenient for their clients. 
Through working with a digital coach, you'll identify what you really want in life. Then, you'll create a plan of action to achieve it, break down big goals into more achievable steps, and be held accountable for your progress. With the help of a coach, you can unlock your fullest potential, live a more fulfilling life, and accomplish your goals.
Digital Coaching vs. In-Person Coaching
Digital coaching and in-person coaching both aim to help individuals achieve their goals and improve their overall quality of life. However, there are some significant differences between these two forms of coaching.
One of the most apparent differences is the mode of communication. In-person coaching involves face-to-face meetings between the coach and client, while digital coaching takes place via video conferencing, email, or messaging apps. Some clients may feel they can develop a more intimate and personal connection with an in-person coach, but for most, the benefits of digital coaching outweigh the drawbacks. These include:
Cost and time savings: Clients can save money because digital coaching doesn't require driving to and from a physical location to meet with a coach.
Flexibility and accessibility: Clients can connect with their coaches from anywhere in the world, so they can easily fit coaching sessions into their busy schedules.
Consistent contact: Clients working with a)plan coaches have 24/7 access to their coaches via in-app messaging.
Additional savings: At a)plan, our coaches don't require offices, and we pass that savings along to our users through our accessible pricing.
Ultimately, the choice between digital coaching and in-person coaching depends on one's preferences and needs. Both forms of coaching can be effective, and it's important to choose the one that feels most comfortable and conducive to achieving your goals.
What to Expect Working with a Coach
The goal of digital coaching at a)plan is for clients to experience whole-person transformation by identifying what they really want in life and developing an actionable plan to achieve that. Depending on their needs and desires, common outcomes for a client who embraces this type of coaching (for roughly six months) can look like:
A busy executive improves their time management skills, reduces stress, and achieves better work-life balance by creating a customized productivity plan with their coach.
An entrepreneur overcomes limiting beliefs and develops a stronger mindset to identify and challenge negative self-talk and replace it with positive affirmations and empowering beliefs that support their goals.
A recent college graduate navigates the job market by working with a coach to identify their unique strengths, skills, and interests and to create a strategic plan to find fulfilling work that aligns with their values and goals.
A stay-at-home parent rediscovers their passions and develops a more fulfilling life by working with a coach to identify their interests and strengths and to explore new hobbies, activities, and opportunities that bring them joy and fulfillment.
These are just a few examples of how digital coaching can transform someone's life in a short amount of time. Ultimately, the specific transformation an individual experiences depends on their unique goals, challenges, and circumstances and the personalized coaching approach they receive.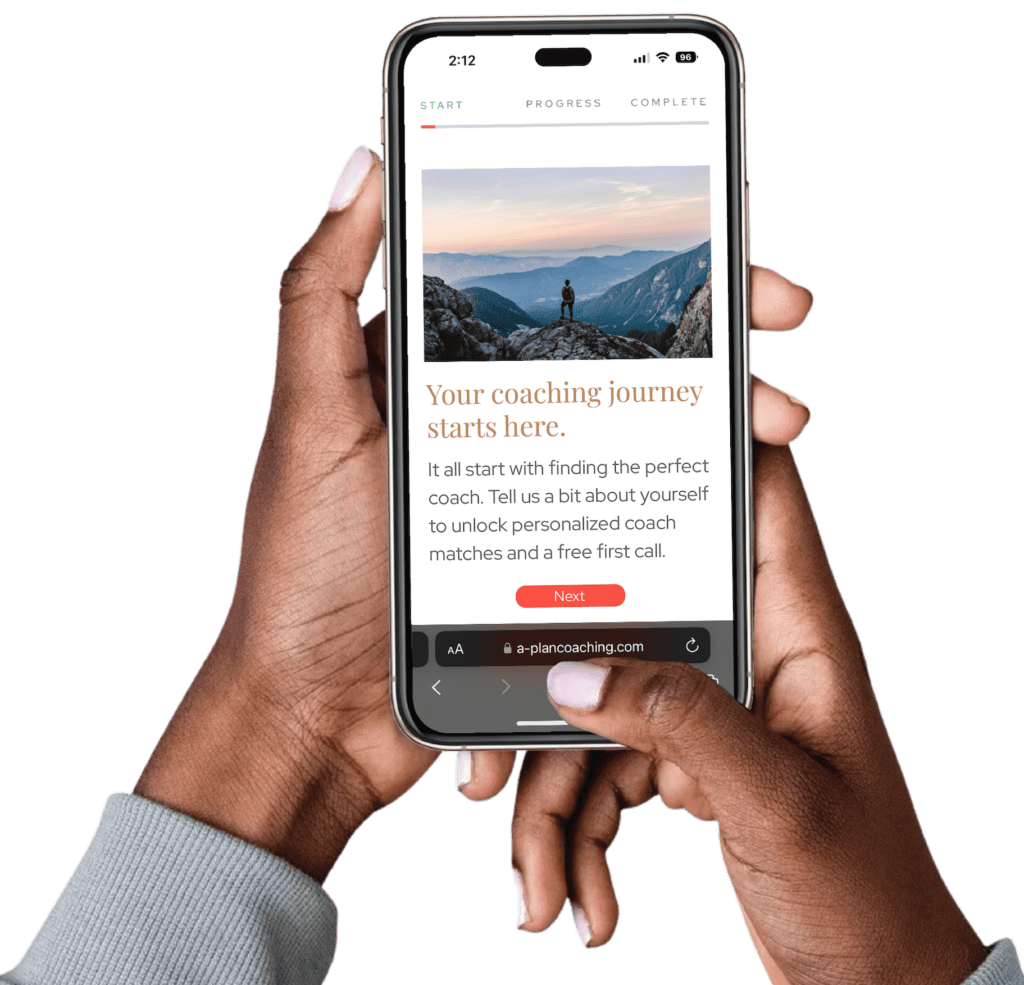 Our free coach-matching tool helps you find the perfect coach in minutes.
a)plan: Home to the Best Digital Coaches
At a)plan coaching, we understand how to make the virtual coaching experience powerful and transformative, because it's what we do best. By choosing a)plan, clients experience:
Vetted digital coaches: we only hire the best coaches.
Consistency in approach and methods: all our coaches are trained in our proprietary whole-person coaching approach.
An immersive coaching app: the a)plan app is specifically designed with our coaches' and clients' feedback in mind, taking digital coaching to a whole new level.
Immediate access to coaches: clients have 24/7 access to their coaches via messaging within the app.
Matching with a Coach at a)plan
Are you ready to begin your transformational journey with digital coaching? Whether you're a busy executive or a young adult searching for your next chapter, or you want to dive into deep topics without necessarily needing deep pockets, digital coaching is an excellent solution. 
At a)plan, we make it easy to connect with the best digital coaches and select the right fit for you. Your coaching journey starts with our online coach matching survey which offers personalized coach recommendations who can provide you with bespoke guidance, support, and motivation. It's time to start transforming your life from the comfort of your home—wherever you are in the world!
Interested in digital coaching?
Take our coach-matching survey to get started.