Jump to section…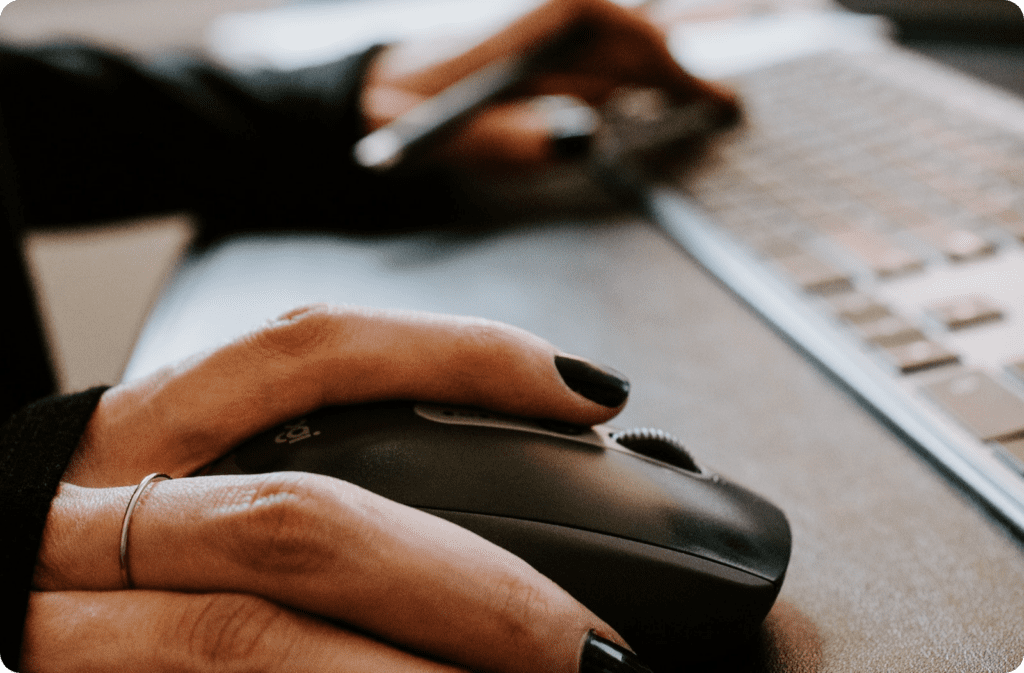 Ever wonder what's involved in a life-changing coaching experience? At a)plan coaching, we work with hundreds of clients who all come to us with different levels of knowledge around this question. For some coaching users, the basics are already understood—from finding a coach, to setting coaching goals, to attending weekly coaching sessions. Yet, for others, these are entirely new concepts.
In this post, we cover some life coaching basics, particularly as they relate to a)plan coaching's own method. In every a)plan engagement, clients can expect to:
Set high-reaching coaching goals
Attend 1:1 weekly coaching sessions
Form rock-solid connections with their coaches
No matter your knowledge of the coaching space, let's start with a brief intro to life coaching, from the lens of a)plan coaching. We'll then cover how to set excellent coaching goals, and how to make the most of your coaching sessions.
Brief Intro to Life Coaching
At a)plan, the term "life coaching" is not necessarily an all-inclusive way to think about coaching. While many people refer to general coaching as "life coaching," the truth is that life, career, relationships, parenting, and more are all part of the same system. For that reason, at a)plan we like to make the distinction that we engage in "whole person" coaching.
No matter your specific definition, coaching has seen tremendous growth in recent years. In 2024, the coaching industry market size is projected to reach $6.25B, with active coach practitioners doubling in just five years.
One of the underlying themes of great coaching is that clients may seek powerful breakthroughs both in life and work, as a result of their coaching. Breakthroughs may take many forms, and they can mean different things to different people. Adopting a new life-changing habit is a breakthrough that could come as a result of setting a coaching goal. Changing the way you view a problem is a breakthrough that might come from a weekly coaching session. In coaching, change is welcomed and embraced as we seek to improve our individual situations.
Coaching Goals: Definition
In a coaching engagement, coaching goals are any desired outcomes that an individual seeks to achieve through working with their coach over a period of time.
At a)plan, our method revolves around creating three core coaching goals. The client is responsible for creating their own goals, but their coach is a key part of that process as a thought partner and feedback provider.
The driving question that helps clients create high-reaching goals is simple: What do you really want? As your coach helps you peel back the layers to this question, goals begin to reveal themselves. Chipping away at those goals, defining them, then writing them down are foundational steps of the coaching experience.
Coaching Goals Examples
In creating coaching goals, consider what you really want in all aspects of your life. What do you want as it relates to your health? Your income? Your romantic relationships? Your career? Simple coaching goals examples include:
Spend more quality time with my family on the weekends
Start the business I've wanted to start for the past 3 years
Start volunteering with a non-profit that shares my values
Plan and go on a beach vacation in 2023
Earn six-figure income by the end of the year
We recommend clients choose goals that are ambitious yet attainable. Not only will your coach help you craft your goals, they will just as importantly help you create action plans. A goal by itself isn't worth much. But a goal with a plan and an accountability partner (your coach) suddenly becomes much more attainable.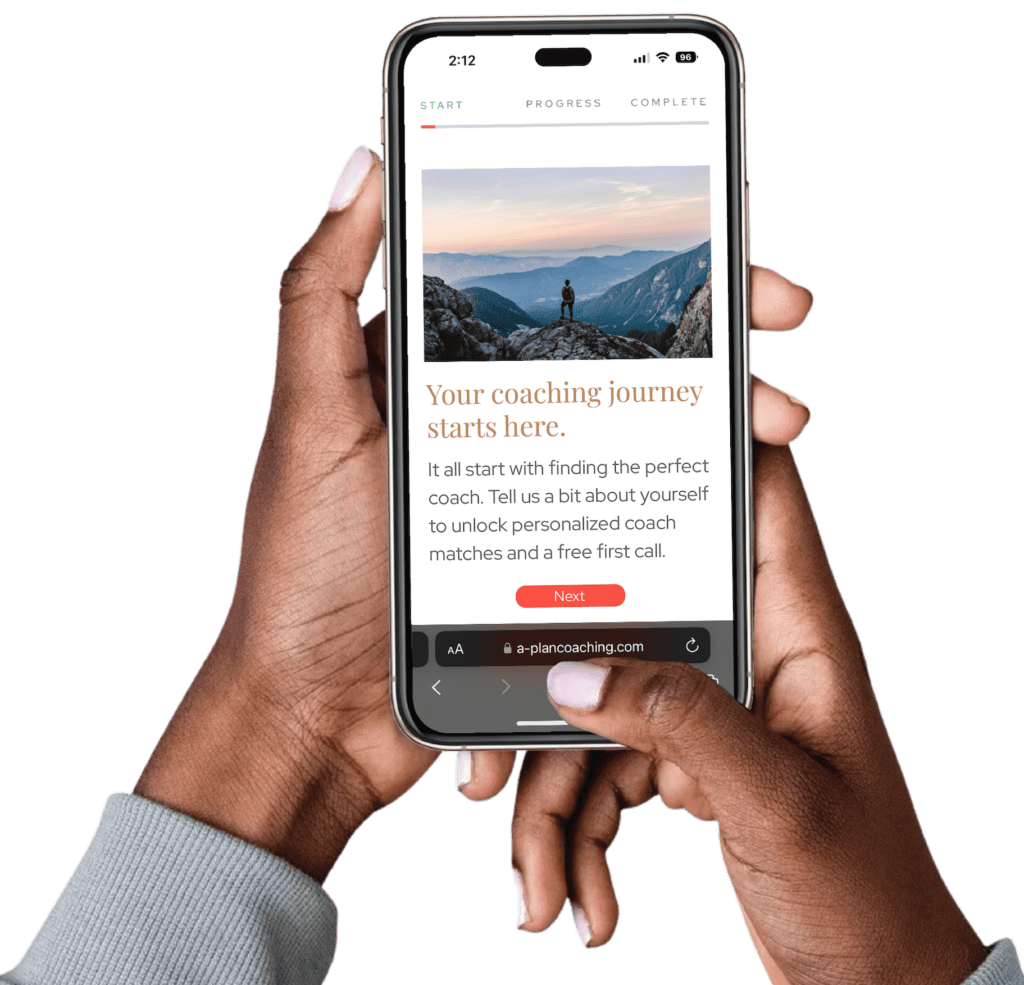 Ready to set some life-changing coaching goals? Find the perfect coach in minutes with our free coach-matching tool.
What Are Coaching Sessions?
Coaching sessions can be defined as the scheduled time you arrange to meet with your coach. Picking a coach who can commit to your desired cadence of coaching sessions is a big consideration when finding the right coach.
Coaching sessions at a)plan last 30 minutes every week, and they can take place on any number of platforms. With the a)plan coaching app, you can connect directly to a video chat with your coach, or if you prefer FaceTime or phone calls, you can arrange for those formats as well. Your coach will adapt to whatever it is that will make your coaching sessions most productive and successful, so take some time to consider your preferred approach.
Becoming an a)plan client means harnessing the power of weekly coaching sessions – our time-tested cadence for creating meaningful progress. As you settle into a routine with your coach, something will be very clear from the jump: They are there to support you. That means it's their job to accommodate your needs as you create a coaching schedule and process that will maximize your success.
The a)plan coaching app is also designed to help you get the most out of your coaching sessions by being a central location for all notes, gratitude lists, and session summaries. Clients can use the app in between coaching sessions to update their coach, communicate with their coach, and stay well-resourced ahead of their next session. And to give our clients the best experience during coaching sessions, the coach is responsible for taking notes and capturing key takeaways in the app. This gives you immediate access and feedback once the session ends.
What a Life Coach Can Do For You
Some coaching newcomers ask a common question as they first embark on their coaching journey: "What problems do life coaches solve?" As a closing thought, we'd be remiss not to address this question and the misguided mindset behind it.
When considering what a life coach can do for you, it's important to understand that coaching is not about trying to fix things that aren't working. Instead, coaching is all about building on what's already working. This is a key distinction, and it is one of many differentiators that separate coaching from traditional therapy.
So what problems do life coaches solve? The answer is it's much less about solving problems and more about discovering opportunity. Your coach helps you to get more out of all facets of your life. They are a thought partner, accountability partner, motivator, and an ally.
What a life coach can do for you is a question to which there is no singular answer. But one thing always remains true: The possibilities are truly endless, and few will believe in that fact more than your coach.