When Dave Ellis began stacking the very first building blocks of the coaching industry in 1978, technology was little involved. No FaceTime or Zoom for coach meetings. No coaching app through which to track progress and micro-accomplishments. The internet in its post-millennial form was still decades away.
And yet, Dave's coaching ideas and methods have stood the test of time with incredible strength. They now live on through the work of his daughter, Sara Ellis Conant, and a company she co-founded called a)plan coaching.
The steady rise of the coaching industry over the past decade has brought a rush of new entrants and service providers to the space. As a result, individuals and organizations have no shortage of new options, begging the question: Which coaching providers have a trustworthy history of experience, tradition, and proven success?
For a)plan, with its 40+ years lineage, the answer to that question runs deep.
The Origins of Dave Ellis's Work
When Dave first started providing an early form of coaching in the 1970s, the concept itself warranted reflection. It wasn't counseling. It wasn't therapy. It was almost mentorship – but not quite. As he describes it, he was a "thinking partner with no agenda" – a simple yet entirely novel concept at the time.
The first beneficiaries of Dave's thinking partnership were college students at a college where he was teaching and where he co-founded a student development center. He helped students think through the question: "What do you really want while you're here at college?" From there, he'd help them map out exactly how to get it. 
By 1981, Dave had fully recognized the power of this work, documenting his ideas in his first book, "Becoming a Master Student," which went on to become the best selling college text in any discipline for more than 20 years. Many of the fundamental concepts of the book inspired the very beginning of the coaching industry and still live on today.
Coaching a Nobel Prize Winner, an NBA Coach, and More
Years later, following the success of "Becoming a Master Student," Dave published another book titled, "Life Coaching: A Manual for Helping Professionals" in June of 1998. By this time, he had become one of the best-known coaches in the industry.
Dave and his staff coached educators and luminary clients including Nobel Prize winner Mohammed Yunus, best-selling authors Lynne Twist and Jack Canfield, and the highest-paid NBA coach at the time. Just as importantly, Dave worked with many national and international nonprofit leaders, social entrepreneurs, and philanthropists.
After selling the rights to "Becoming a Master Student" to Houghton-Mifflin in 1994, Dave contributed millions of dollars to projects related to The Brande Foundation, which he founded in 1987. Through these projects, he made grants to nonprofits and helped nonprofit leaders gain access to coaching. By then, Dave's methodology had evolved into what he described as "whole-life coaching," or the idea that leaders are most effective when they have a thought partner for all areas of their lives.
The Brande Foundation has provided coaching and workshops for thousands of nonprofit leaders around the world. Taking his earnings from book sales and coaching, Dave helped fund free coaching for change-making leaders for over 30 years.
A Daughter's Mission to Amplify Her Father's Work
With 20 years experience as a coach herself, Sara Ellis Conant grew up with a front row seat to her father's coaching work. Before founding a)plan, she coached more than 100 clients over more than a decade, blending her father's ideas with those of her own – including leadership best practices learned through her Stanford MBA and six years with Deloitte Human Capital Consulting. The result was an evolved methodology – one that profoundly impacted her clients, including her future a)plan co-founder, Michael Counts.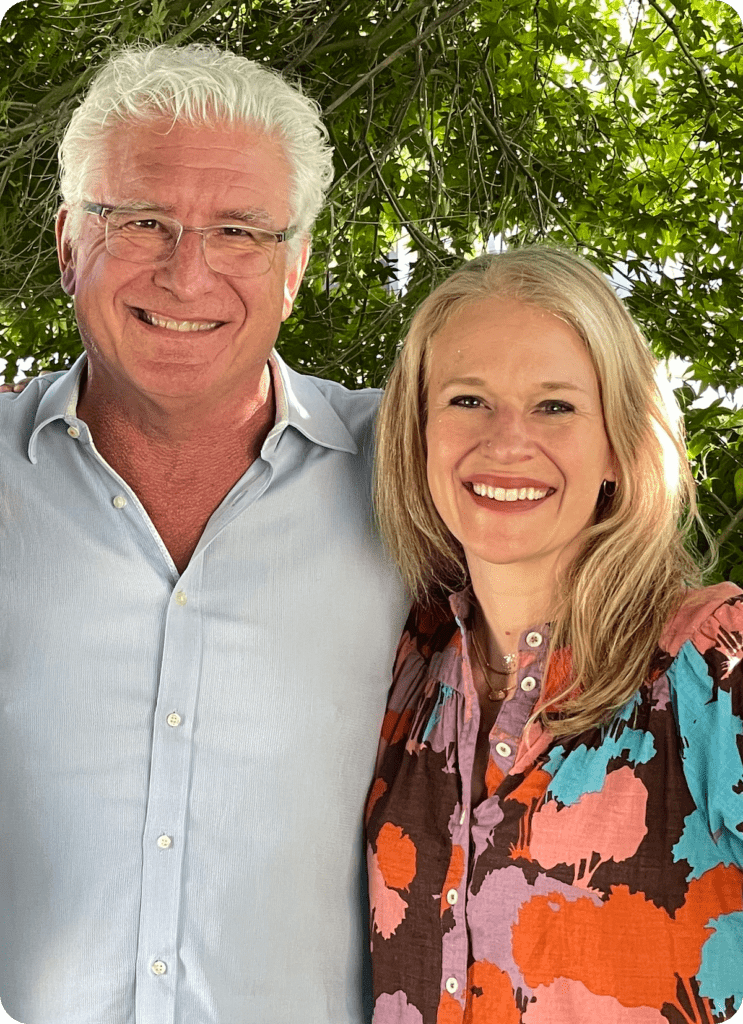 The vision for a)plan was simple: More people should have access to this powerful coaching method that Dave created and Sara enhanced. By leveraging new research and technology that was unavailable to Dave decades prior, coaching could become more affordable, consistent, and scalable.
That original vision has now taken full effect, as a)plan serves hundreds of individuals and dozens of changemaking organizations.
"Sara got into coaching very early," says Dave. "She has taken what I created and brought it to countless changemakers through a)plan. It's so wonderful to have her stand on and improve what I created starting back in 1978."
To keep Dave's unmatched perspective close to the a)plan operation, he now serves as an advisor and mentor for coach training and methodology. His decades of experience are invaluable – not just for the a)plan team, but for the hundreds of a)plan clients who feel the ripple effects of his pioneering work everyday.