Do you want to improve your executive function (EF) to increase focus, improve problem-solving skills, or dial in your thoughts? Learn why coaching and EF development make a great match and how working with an executive function coach can be a game changer for your personal and professional development.
What is an Executive Functioning Coach?
Executive functioning coaching has emerged as a key resource for individuals seeking to develop their executive function. An executive functioning coach works with clients on key areas related to EF, such as setting goals, prioritization, multitasking, self-control, and focus. These skills are essential to effectively managing work, school, and other responsibilities. By partnering with an executive functioning coach, individuals can identify their strengths and weaknesses and build personalized strategies and tools for improvement.
What Is Executive Function?
As hinted at in the above section, "executive function" is a term for the brain's ability to manage time, stay focused, make decisions, regulate emotions, and engage in goal-directed behavior. These cognitive processes play a crucial role in daily life and help us accomplish tasks with minimal distraction. Strong executive function skills contribute to academic and occupational success, as well as overall well-being and adaptive functioning in various aspects of life.
Executive function is traditionally taught to children at a young age, both formally (in schools) and informally (parenting). However, as HBR points out, executive function skills are not solely innate. Rather, we can learn them. The good news is that no matter where you are in your EF development, these skills can be worked on and improved, especially with the help of a trained executive function coach.
Executive Function and Its Connection to ADHD
Some people searching for an executive functioning coach may suffer from Attention Deficit Hyperactivity Disorder (ADHD). ADHD may be a source of executive dysfunction, which is often described as the inability to hold focus and control thoughts.
Because ADHD is one of the most common neurodevelopmental disorders diagnosed in children and teens, many executive function resources focus on these age groups. However, ADHD typically lasts through adulthood, so this topic affects all ages.
Furthermore, some people are diagnosed with ADHD later in life or don't receive the personalized support they need during childhood to develop executive functioning skills. All these factors contribute significantly to the need for EF development resources for all age groups.
Executive Function and Its Connection to Coaching
Coaching has emerged as a viable and valuable resource for executive function development because coaching naturally focuses on many overlapping themes with EF. For example, goal setting, prioritization, focus, time management, and incremental progress are common topics of any coaching engagement. Those wanting to develop their executive function will likely want support in these critical areas.
At a)plan coaching, we aim to provide clients with the support they need to develop these essential life skills. While executive dysfunction is common for those with ADHD, it's also linked to several other conditions that impact the brain, including drug and alcohol abuse, depression, and obsessive-compulsive disorder (OCD).
Our proprietary "whole-person" approach to coaching enables our coaches to look deeply and view clients through a holistic lens that considers the habits, thoughts, and behaviors impacting their EF. Whether identifying a pattern of missed assignments, daydreaming or "spacing out" during meetings, or a lack of motivation to start new tasks, executive functioning coaching helps clients build new habits and improve their outcomes in work, school, relationships, and life.
What to Expect from an Executive Functioning Coach
Generally speaking, executive functioning coaches are accountability partners and go-to resources for clients seeking to develop their EF skills. Coaching is a collaborative process in which the coach and client share ideas and experiences, working together to find the best ways to move through complex challenges.
At a)plan, we prioritize planning and goal setting in each coaching session, which is essential for EF development. Our coaches work with clients to create MAPs (multiple action plans) to chart various ways to reach their goals. Furthermore, through strategy discussions and skill-building practices, clients learn to take positive action toward the change(s) they desire.
What makes a)plan a distinctive resource for executive functioning coaching is our immersive experience. Clients choose from a roster of pre-vetted coaches—some who have particular experience with executive function—for weekly coaching sessions. Between meeting with their coaches, clients have access to our coaching app to track their progress. This is a valuable tool, particularly for those wanting to improve their focus, mental clarity, and long-term commitments. Lastly, our clients have unlimited chat access to their coaches and an AI chat partner via the app, so they always feel supported on their improvement journey.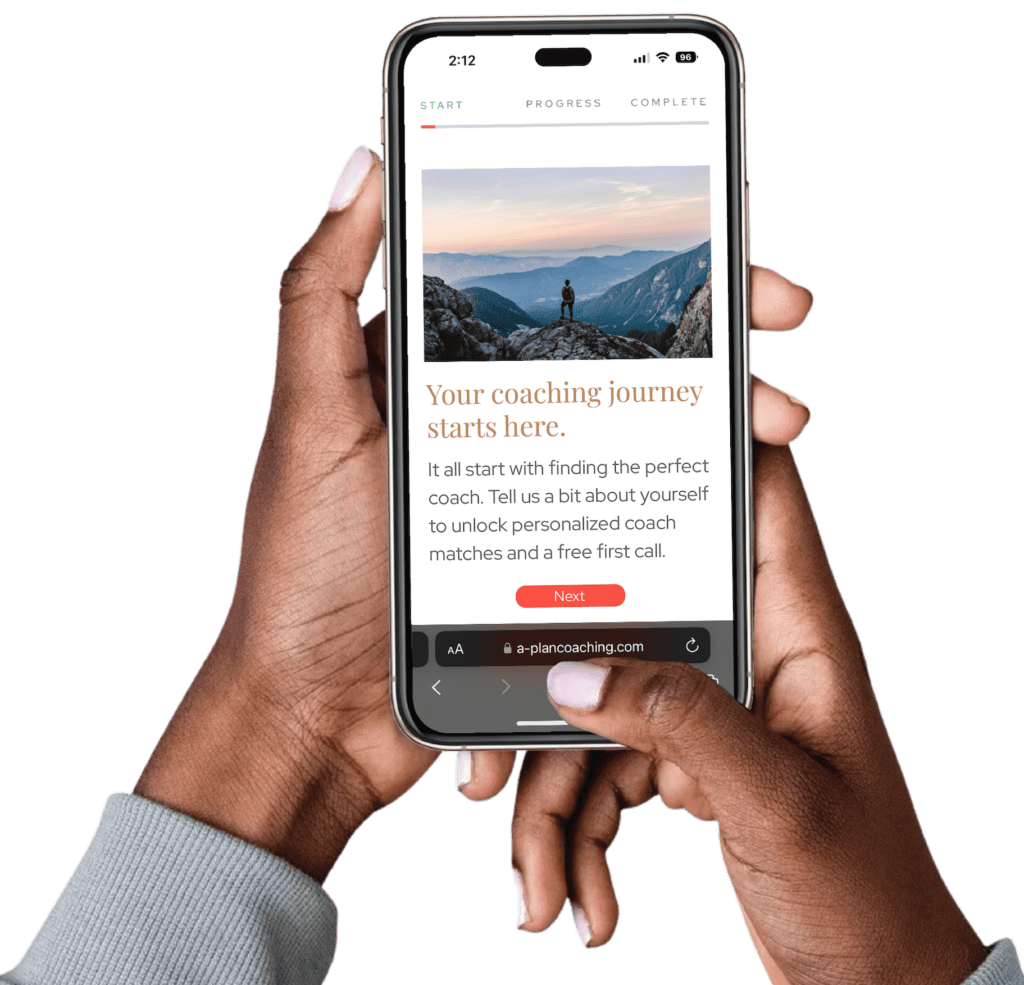 Our free coach-matching tool helps you find the perfect EF coach in minutes.
What to Look for in a Coach in this Space
Executive functioning coaching is unique in that it may require specialized expertise from a coach who understands neurodiversity, brain development, ADHD, and more. For these reasons, it may be beneficial to work with a coach with a degree in psychology in addition to their coaching background.
It's important to note that coaching is not the place to seek any sort of diagnosis (i.e., ADHD) or support for severe mental health challenges. However, a trained psychologist-coach may be able to help you understand if you should seek out additional resources, such as therapy.
Beyond that, you should always look for a coach with whom you jive well—someone who genuinely understands and empathizes with your situation and can get on board with where you want to go. That compatibility piece is precisely why we allow free compatibility calls at a)plan before our clients get started with any one coach.
Match with the Perfect Coach at a)plan
At a)plan coaching, we understand the significance of executive functioning development and its impact on personal and professional success. Our executive functioning coaches are committed to helping clients overcome their EF challenges to thrive in all areas of their lives.
If you feel overwhelmed with developing executive functioning skills on your own and want a trained professional to support you on this journey, you're in the right place. Whether to improve your organizational skills, boost productivity, or enhance your decision-making abilities, you can start today by completing our coach-matching survey.
Our survey allows you to select a coach of your choice (like one of the sample coaches below who have experience with EF). From there, you may schedule a free "fit call" to ensure it's a perfect match and begin the journey of identifying your strengths, overcoming challenges, and unlocking your full potential.